ASID Releases Third Quarter Interior Design Billings Index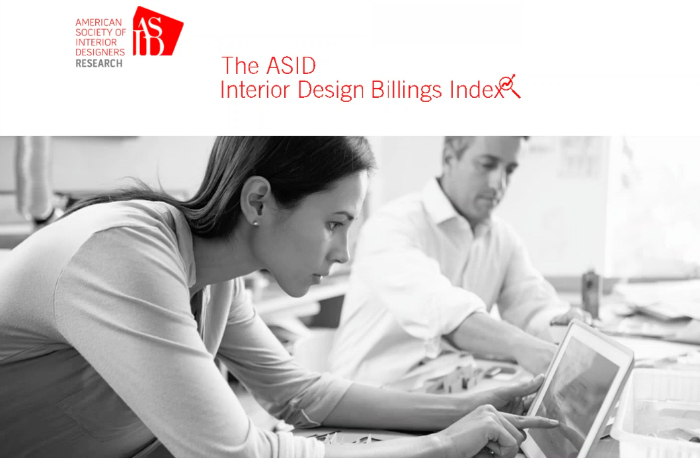 November 16, 2016
Results of the ASID Interior Design Billings Index (IDBI) Third Quarter Report have been released and include a rundown and analysis of the market segments and geographic regions that enjoyed a positive third quarter 2016, a look at the key indices from the report and what they suggest for the design industry over the next six months and an evaluation of how interior design practitioners interpret the economic climate.
According to the report, the third quarter showed positive momentum for the design industry. September's ASID Interior Design Billings Index (IDBI) value slipped to a score 54.0 from June's score of 55.9 but remains in expansionary territory. The September index is stronger than its three-month moving average of 52.5, indicating positive momentum and favorable business conditions. Scores above 50 indicate expansion, while scores below 50 indicate industry contraction. The last IDBI score below 50 was recorded in December 2015. The new project inquiry rate increased to a score of 59.2, slightly above its June score of 58.2.
"The U.S. economy, with its 2.9 percent increase in economic activity during the third quarter, appears to have pulled out of the weak cycle of growth that began in late 2015 and continued through the second quarter of 2016," according to Jack Kleinhenz, ASID economist. "The economy is expected to build momentum in the consumer and housing sectors. This turnaround is good news and a key factor that supports the positive outlook reported by ASID panelists."
Other highlights of the report include:
Interior design firms in the South lead billings growth, while firms in the Midwest and Northeast rebound.
Billings results are positive across all market specializations.
The six-month outlook shows stronger expected conditions.
The labor market continues to improve at a slightly slower pace.
Construction spending softened mid-year.
The report can be downloaded at: https://www.asid.org/sites/default/files/files/ASID-IDBI-Third-Quarter-2016.pdf.