Designing for a Modern-Day Audrey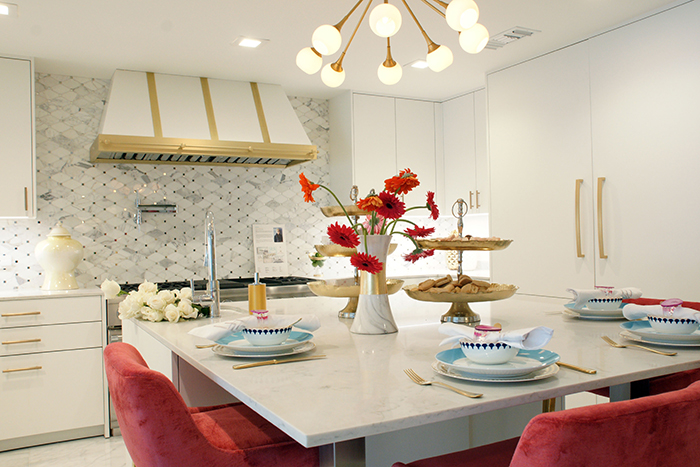 March 6, 2017
In its fourth year, the Modernism Week Show House at the Christopher Kennedy Compound has brought together nearly 20 designers to redesign a luxury home. This particular home is set in the Andreas Hills area of Palm Springs, Calif., and belongs to lifestyle writer and social media sensation Kelly Lee (Kelly Golightly) and her photographer husband, Fred Moser.
The design needed to cater to a couple well versed in high design and fashion. Called a modern-day Audrey Hepburn, Golightly covers fashion, interiors, entertaining and travel in her lifestyle guide and on social media. Moser similarly photographs subjects like fashion, the Italian coast and desert landscapes.
For her 6,500-sq.-ft. home, Palm Springs-based designer Christopher Kennedy led the design team to outfit each room with a mix of traditional elements and modern lines. Sponsored by Ferguson Bath, Kitchen & Lighting Gallery, the home features an elegant outdoor living space, a traditional kitchen and several unique baths. KBB spoke with the designers of the kitchen and one of the baths to find out what they did in their projects.
Project: Powder Room
Designer: Keith Fortner, senior designer for the Christopher Kennedy Compound
Goals: "The DXV Trope faucet was the first thing selected for the powder room. I wanted to make sure the rest of the room complemented and elevated it as a unique showpiece. I think any powder room should make a statement, and I wanted to make a grand, feminine gesture in a diminutive space. It should be a beautiful, light design that would withstand trendiness."
"The vanity perfectly fit the dimensions of the small room and gave gravitas to a space that could have easily become precious. Everything else just seemed to appear and insist itself into the room. The Turbine tile floor from AlysEdwards brought it all together. The inlaid, curved stainless steel accents in the tile perfectly mimicked the DXV faucet." – Keith Fortner, senior designer for the Christopher Kennedy Compound, Photo by Molly Hauge
Vanity: "The entire design is based upon an original Marilyn Monroe artist's proof that I acquired earlier this year," added Fortner. "In it, Monroe sits against a black background in an elegant cream gown, holding a stringed instrument among multi-colored feathers and lavender chrysanthemums. With that photograph as an inspiration, I knew I needed to incorporate black into a home that was almost all white."
"There were chrysanthemums in the photo of Marilyn Monroe I used for inspiration. While looking for lighting options, I found beautiful new crystal sconces from Fine Art Lamps called Chrysanthemums. Then, not five minutes later, I saw the beautiful Wisp wall covering from Phillip Jeffries, and it was all done." – Keith Fortner, Photo by Molly Hauge

Color Palette: "Working with Christopher Kennedy in producing this project, I had access to the mood boards submitted by all of the participating designers," said Fornter. "Christopher carefully guided everyone to consider Kelly Golightly, the homeowner and muse; her brand; and the image of Palm Springs cocktail culture in making sure the home was cohesive. It is a bright white house filled with accents of yellow, aqua, turquoise and pink. I noticed an underlying color of lavender in many of the presentations and decided that making it the main color in this room would help unify other spaces."
Project: Kitchen
Designer: Rancho Santa Margharita, Calif.-based Kelli Ellis
Goals: "My goal for Klaus 'Fred' and Kelly was to incorporate the traditional elements they wanted while showcasing the modern clean lines of the cabinetry and modern feel of the home. While looking at inspirational photos from Kelly, it was clear a seamless mix was imperative to give them the kitchen of their dreams."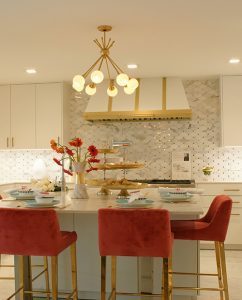 "As much as I love the timeless look of marble, I am not a fan of it on the countertop, so I used a Corian Zodiac material that blended beautifully. I added large brushed–gold handles, accents from ATGstores.com and gorgeous barstools by Sunpan to finish off the look perfectly." – Kelli Ellis, Photo by Molly Hauge 
Materials: "The key traditional elements in the space really set the tone," explained Ellis. "Of course a stunning 60-in. range by Thermador introduced my stainless metals. All of the appliances and sinks were given to us by Ferguson Bath, Kitchen & Lighting Gallery, including the range. I used a solid Carrara marble sink from Stone Haven to anchor one side of the room. The next eye-catching item is the over-sized custom range hood by Modern Aire. The exact white of our cabinetry with brushed gold strappings creates a beautiful cap to the backsplash, which uses my collection for Tilebar, Alexa, consisting of a marble and antique mirror."
Challenges: "With cabinetry by Eggersman USA as our main material, I needed to show how clean-lined, white, integrative cabinetry could be done in a traditional way," said Ellis. "If you are familiar with the product, you know it's notoriously contemporary in its application. I'm delighted to showcase it in a new, beautiful way."

                                                              The home's outdoor living space
"Ferguson has always been about bringing product innovations and quality to the home," said Dennis Woo, Ferguson's regional business development manager. "We are thrilled to return as a sponsor for Modernism Week. This prestigious and experiential event provides attendees with a memorable and visceral cultural experience – including the progressive art, design, music and food of the period."