Duravit Partners with Museum of Design Atlanta for "Text Me: How We Live in Language" Exhibition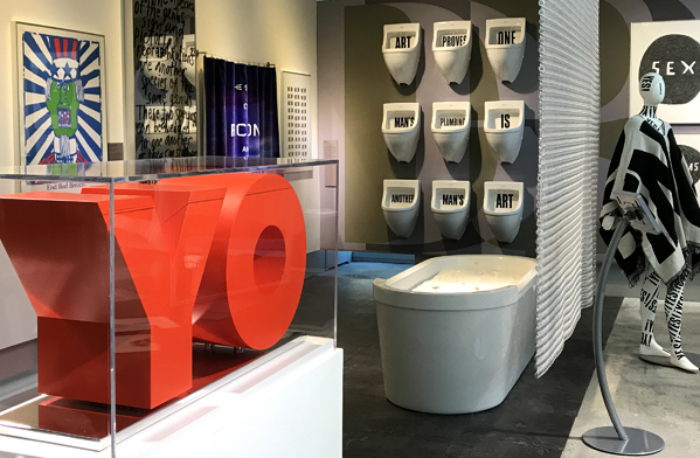 October 9, 2017
Duravit is stepping out of the bath and into the gallery as part of the Museum of Design Atlanta's (MODA) original exhibition Text Me: How We Live in Language. Curated by internationally renowned designer, writer, podcaster and brand strategist Debbie Millman, the exhibit is now open and runs through February 4, 2018.
Text Me: How We Live in Language considers typographic expression as the primary means by which we communicate and connect with one another. Through interactive, immersive experiences, the exhibition showcases how typographic expression is used to document the human experience.
Duravit will be on display as part of an homage to the 100th anniversary of Marcel Duchamp's iconic "Fountain," as imagined by New York-based artist and creative director Ken Carbone. Duchamp turned the art world on its head in 1917 with his original "Fountain," a porcelain urinal turned on its side and signed "R.Mutt." First displayed at New York's 291 gallery and then famously removed from view in protest by the Society of Independent Artists, "Fountain" continues to reverberate around the world to this day, as it challenged early 20th century ideas of handmade versus readymade art. In addition to the original, more than 10 Duchamp authorized "Fountains" can be seen across the globe in art meccas such as the Tate Modern, San Francisco Museum of Modern Art and Centre Georges Pompidou.
Carbone uses words painted across a grid of nine Duravit Starck urinals to challenge viewers just as Fountain first did. The provocative text invites onlookers to reexamine the lens through which they view both art and design, all while reflecting on the initial power Fountain first injected into the art world a century ago.
"MODA is an institution that we are proud to partner with and support," said Duravit USA President Tim Schroeder. "Through this exhibit, Duravit further demonstrates its dedication to design and innovation above all else, and we're excited to be a part of this key conversation that shows the importance of design in the everyday."
Duravit's Starck tub will also be on display, rounding out the space and offering visitors another opportunity to appreciate the brand.
In addition to Duravit and Carbone's installation, the exhibition will include objects and artworks by more than 60 leading artists and designers, as well as murals by Timothy Goodman and Gemma O'Brien, the I Dismantle Suit (a garment) by Lesley Dill, a large embroidery by Maira Kalman, tableware by James Victore and an immersive digital installation.
Photo: Susan Sanders