Get Your Trends On!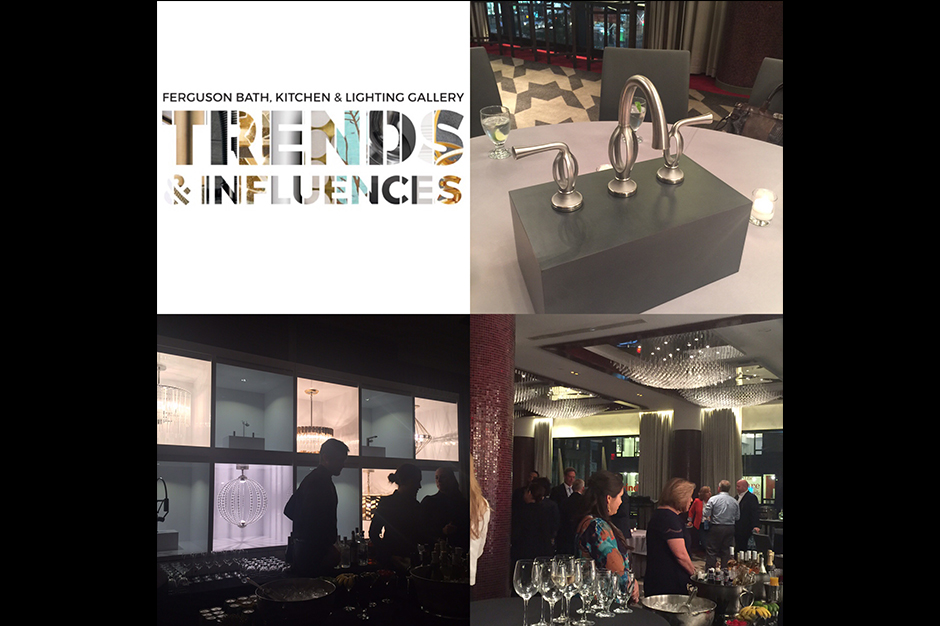 September 29, 2016
As the nation's largest bath, kitchen, and lighting showroom chain, Ferguson has spot-on insight on what's trendy and what's not. Through exclusive product research and discussions with leading designers, manufacturers and industry insiders, the company compiled an extensive guide to what's hot for the kitchen, bath and lighting.
Invited by Ferguson Bath, Kitchen & Lighting Gallery, KBB recently attended the "First Look at Trends & Influences for 2017" in New York City at The Gansevoort Park Avenue Hotel. Interior Designers, architects and specialized media from the lifestyle design industry attended an evening cocktail hour, which showcased lighting and faucet products.
Click here for a gallery of product examples of the trends 
Highlights included a talk from Mary Hannah Fout, senior marketing manager of showrooms for Ferguson, detailing the trends and influences. Standouts were the new lighting designs for LED, including "movement through the light's design of planes and plates to create a warm dimmable glow," and the new DXV American Standard 3D Printing faucets, the first commercially available residential faucets created with 3D printing adorned each table. The newly launched designs offer a luxury faucet experience with the complexity of multiple waterways and the illusion that water magically appears from the faucet.
Gray Uhl, brand education director of LIXIL Water Technology Americas, discussed with KBB the first self-cleaning toilet and how other new technologies for water conservation are happening. He emphasized how "everything water conservation-wise is engineered these days so the consumer can't tell the difference."
The evening ended with a dinner hosted in a ballroom with a bar illuminated by the new bold trend of crystal pendants and chandeliers featuring LED lighting.
The following are Ferguson's list of 2017 Trends & Influences, along with various quotes heard during the event to back up the list:
1. Metallics. Metallics are seen in everything from lighting to faucets to appliances and offer a spectrum of colors, including warm rose and brass, as well as the cooler tones of black, titanium and gunmetal. Metallics offer so much more versatility and can be used to add a pop of color.
Consider mixed metals with this BlueStar Single Electric Wall Oven (below).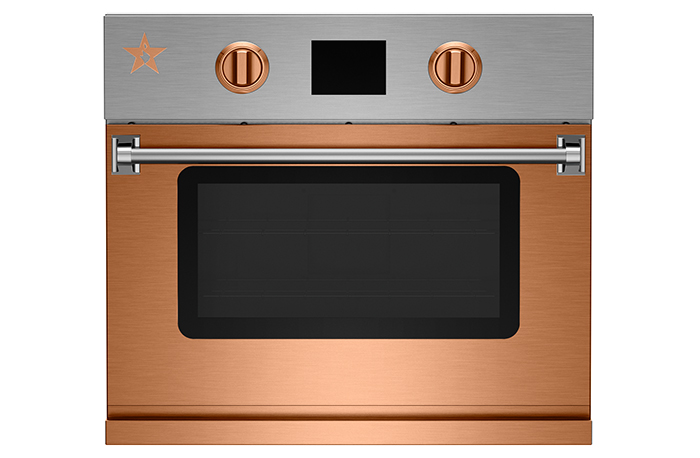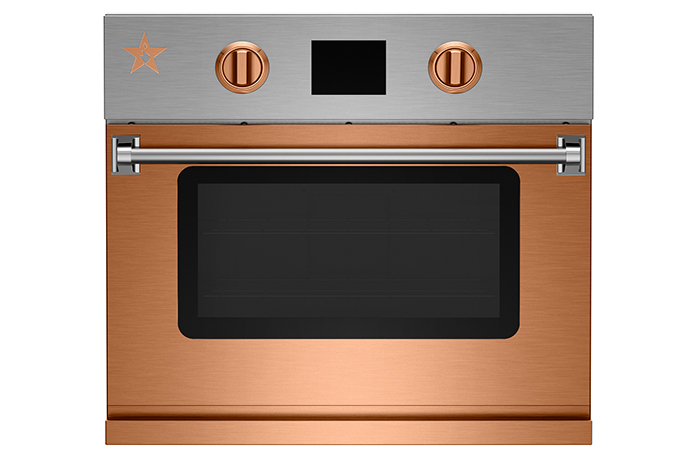 2. Form & Function. Product design is rising to the challenge of consumer expectations, and more products are beginning to merge thoughtful designs with practical functionality.
The Poplin vanity from Kohler (below) accommodates cosmetics and bathroom accessories of all shapes and sizes.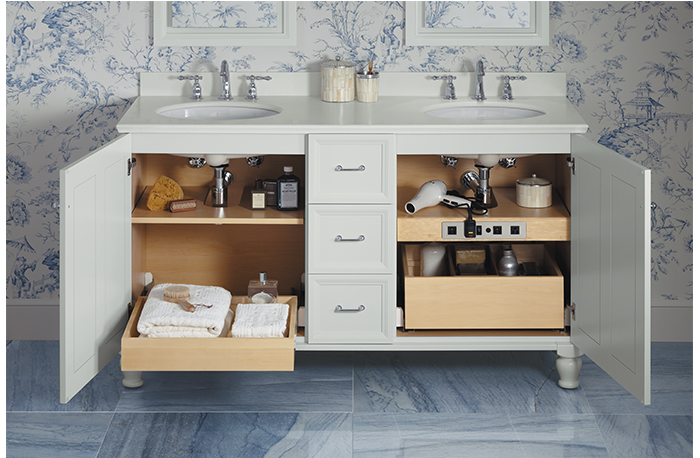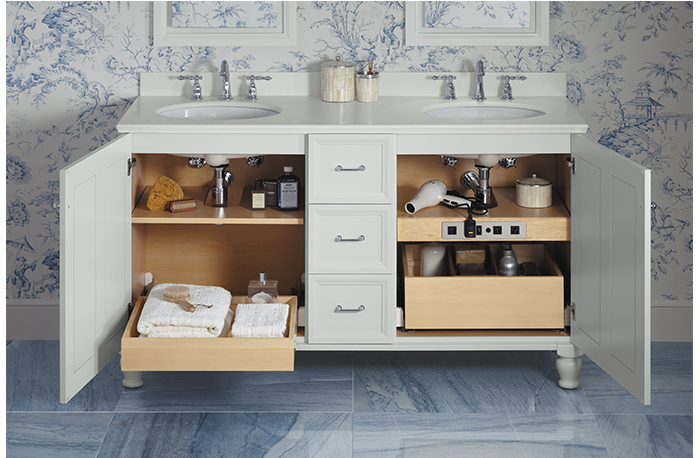 3. Texture. There is a trend toward visual texture, bringing in materials from nature like the rope look, as well as sharp designs mixed with softer orbs.
Faucets with a subtle texture are adding a unique visual and tactile touch from Brizo and Kallista (below).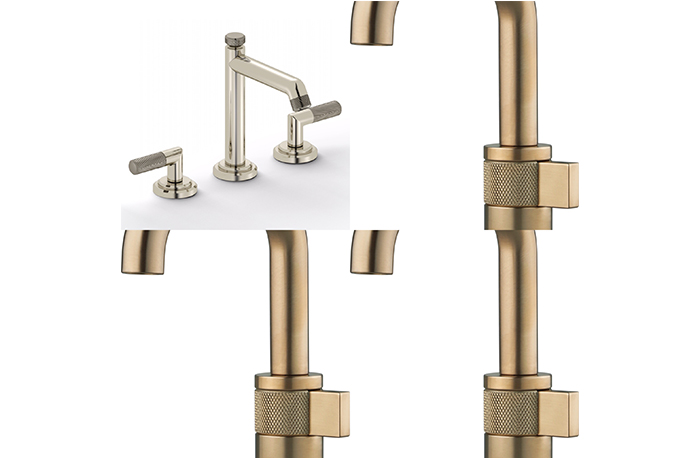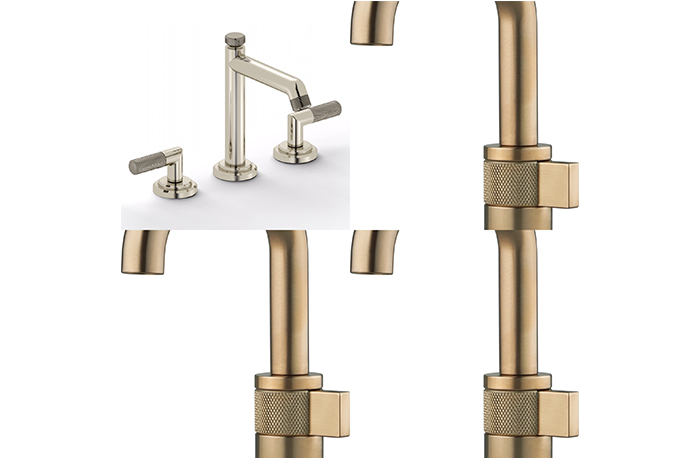 4. Approachable Pro. Who isn't a foodie these days? Many consumers wish to experiment with their inner culinary maestro and seek to invest in products that offer great cooking experiences but don't necessarily have the ultra-pro look. The trend today is more about incorporating sophisticated cooking techniques. Appliances are becoming softer and subdued and are offering such amenities as steam, induction and simmer cooking.
Thermador's Pro Grand Dual-Fual Range (below)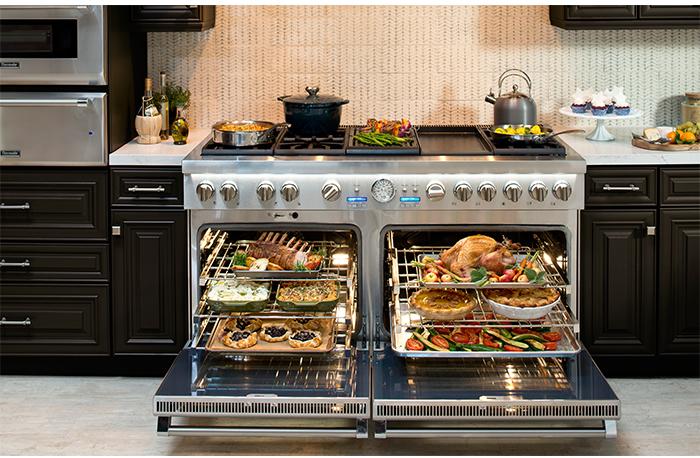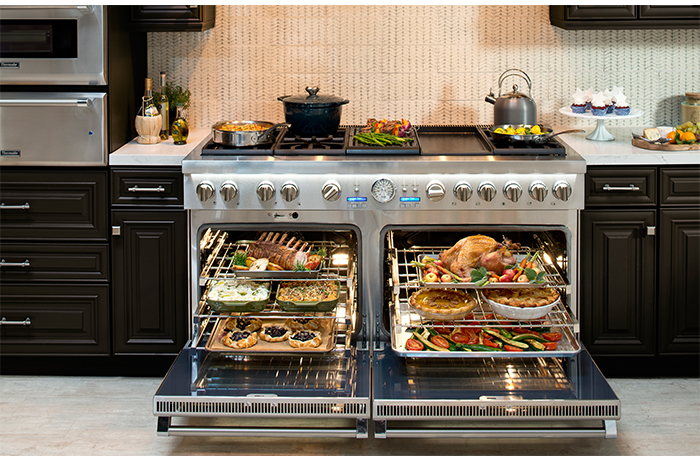 5. New Angle of Crystal. The new cuts and sizes of crystal offer a more organic look. On trend are more masculine-shaped fixtures with a delicate balance of "shadow casting," which results when the light from the crystal casts unique cuts onto the wall or floor of a room.
Kalco's Lighting Giada Wall Sconce (below)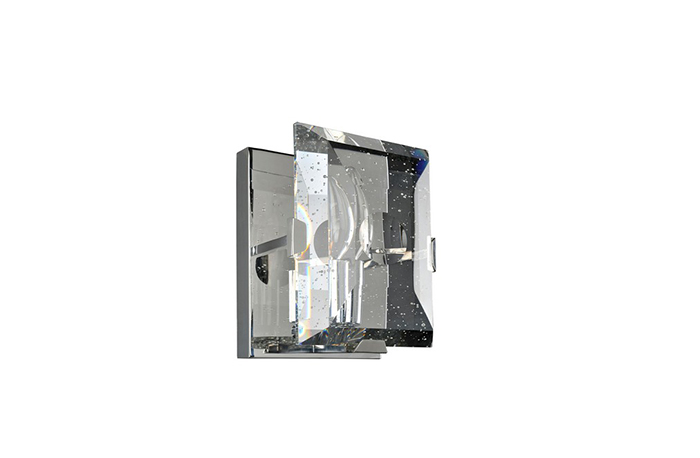 6. Striking Forms. Vanities and tubs still offer striking geometric shapes, however, the new trend has softened these angles.
The Addison Soaking Tub (below) from MTI Baths is great for small spaces.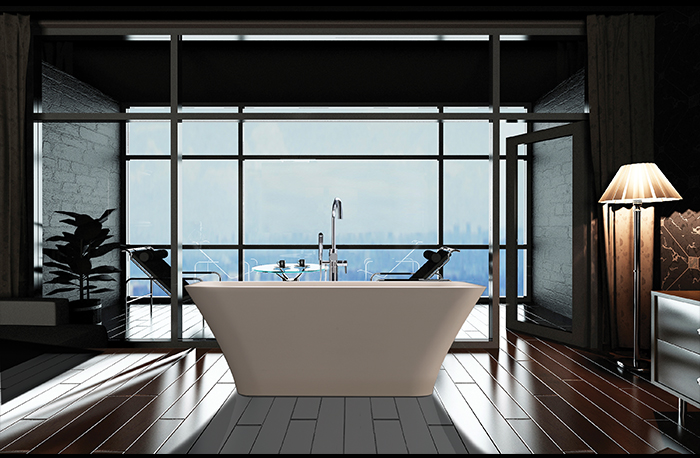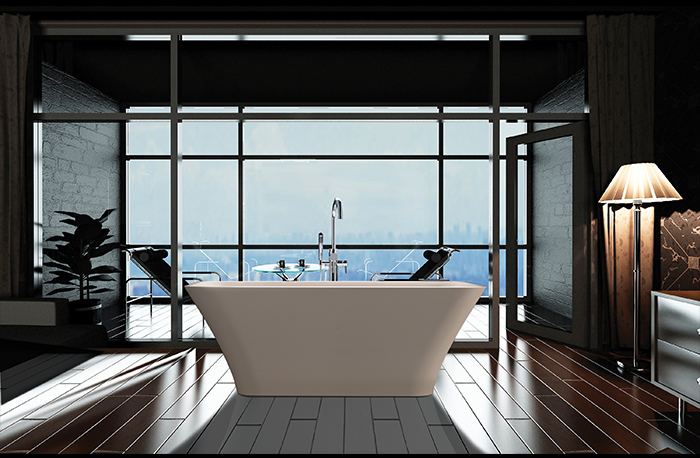 7. Mid-Century Modern Lighting. This is a move toward futuristic simplicity with patterns and inspirations from the 50s and 60s, but with modern finishes, materials and LED lighting, these pendant lights are perfect over a breakfast nook or kitchen island.
Kichler's Charles Drum Pendant (below)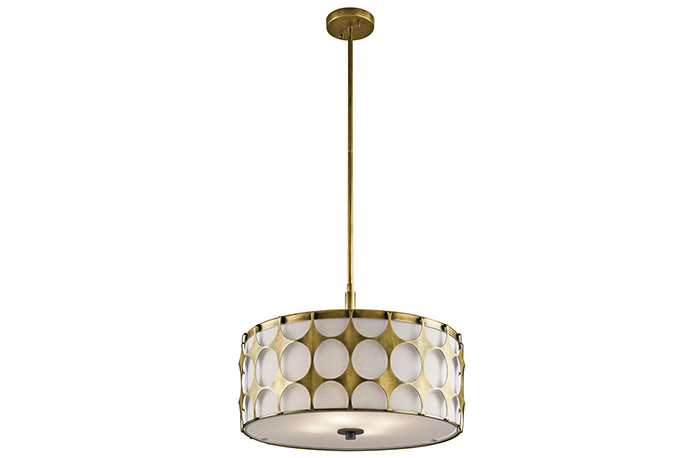 8. Of the Earth. Designs are offering an interpretation of nature with inspiration from reclaimed woods and mirror elements. Inspiration is also found in nature with trees, raindrops, sticks and firewood.
A bold look – the Thompson Traders Albero vessel-style bathroom sink (below)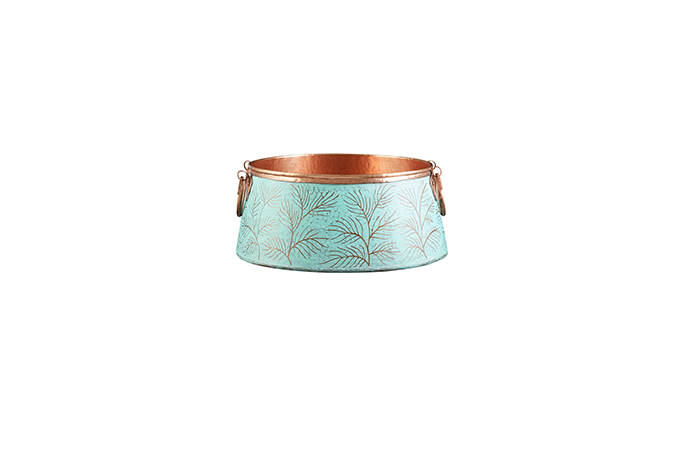 9. Classic Black, Classic White. There is a move toward black matte faucets, whereas the white hue is seen more in lighting and furniture.
Danze's Foodie pull-out spray kitchen faucet (below)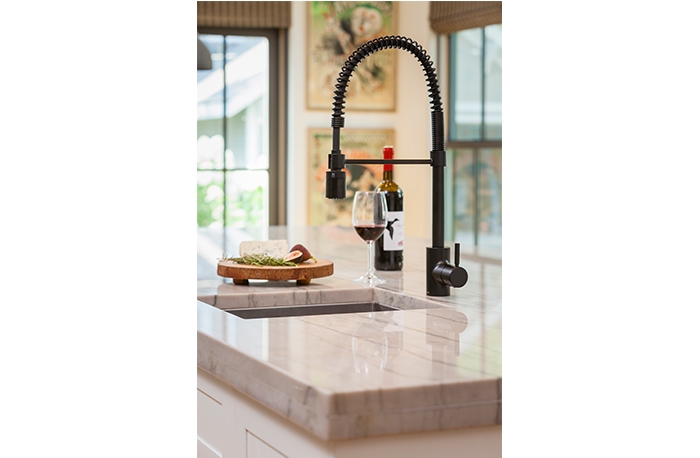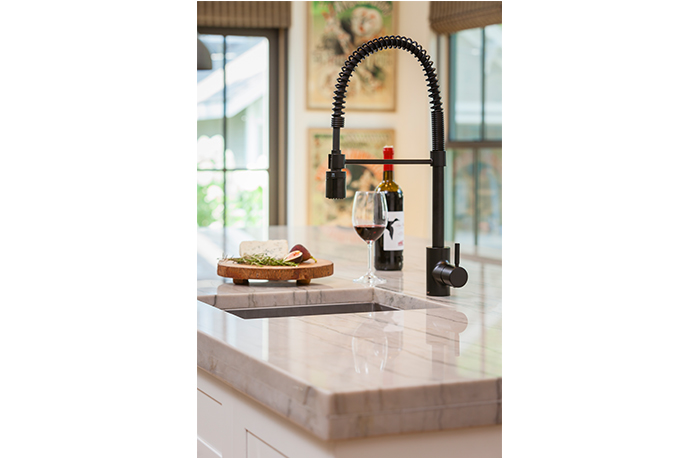 10. Tech Innovations. No longer is technology just for technology's sake. Instead, the industry has considered consumer needs and has taken the time for more thoughtful, mindful design.
The Fortis Uffizi vessel filler bathroom sink faucet (below)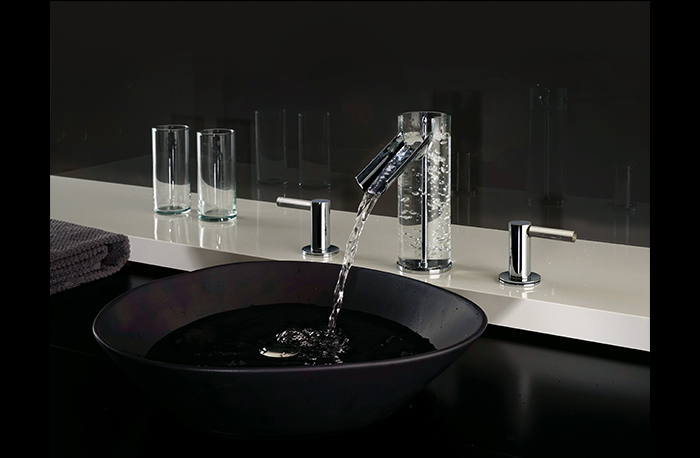 By Helene Taylor