Helping Your Clients Age in Place
---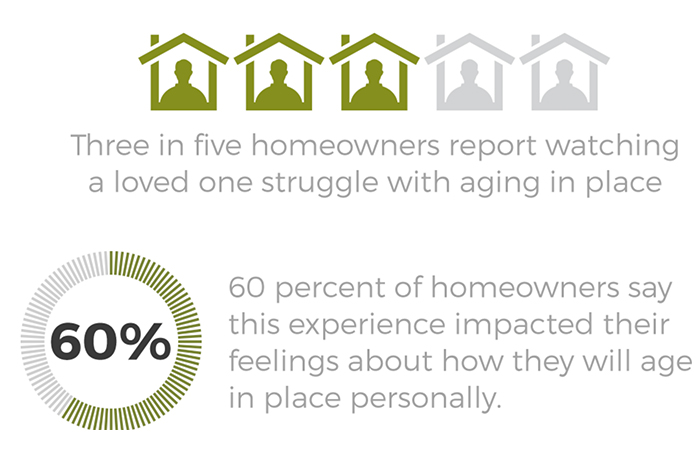 November 9, 2017
HomeAdvisor has released the results of its third-annual Aging in Place Report, and results show that while aging is a fact of life, aging uncomfortably, unsafely or unhappily in your home doesn't have to be.
As one survey respondent in the 55 to 75 age group noted: It's hard to anticipate the modifications homeowners may need to make as a result of aging, so some modifications – like grab bars or widened door frames – may need to be implemented as the need arises. But other home improvements – like self-cleaning gutters; accessible storage; and plumbing, walkway and roof repairs – not only offer greater ease of living in the short term, but they also stabilize the working order of a home for the long term, which provides the best foundation for aging in place, as well as future aging in place improvements.
According to Marianne Cusato, housing expert and author of the report (https://www.homeadvisor.com/r/2017-aging-in-place-report/), kitchen and bath design professionals can help their clients plan ahead for their various needs by assessing their current homes for accessibility.
"While you might not make the changes now, understanding potential barriers now does make it easier when the time comes to make the home more accessible," she added. "When renovating, add plywood blocking behind the drywall so grab bars can be easily installed later if needed."
Some of the key findings of the survey include:
While only about half of the survey respondents are familiar with the concept of "aging in place" by name, most are completing projects such as installing smart thermostats or replacing appliances to improve ease of living in their homes.
Nearly half of homeowners aged 75 and older report renovating their homes in anticipation of getting older. Correspondingly, less than 30 percent report struggling to get around the house as they've aged.
Watching a loved one struggle impacts how homeowners view aging in place. Roughly three in five homeowners aged 55-75 report seeing a loved one (a parent, sibling, partner, etc.) struggle to get around their home as they got older, further reporting that this experience has changed their feelings about how they will age in place personally.
More than one-third of homeowners age 75 and over report being unable to access certain parts of their homes; having to rely on the assistance of others to complete daily activities; and taking longer to complete simple tasks in the home because of barriers like steps, high cabinets and narrow doors.
In terms of broaching this potentially challenging topic to clients, Cusato advises selling projects based around "ease of living" rather than aging in place.
"Present that the benefit today is a home that is easier to navigate," she said. "The best aging-in-place projects are those that make our lives easier today and happen to help us in the future."
Cusato also suggests asking clients if they have watched loved ones age and struggle in their home and what advice they would give to that family member.
"It's easy to see need in others and not ourselves," she said. "Reframing can often allow us to see things in the new light."