ISH 2023 Bathroom Trends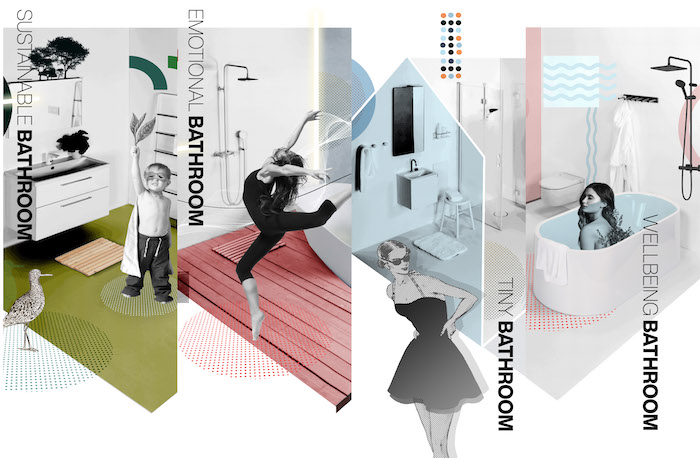 April 13, 2023
The latest developments in sustainability, trends in bathroom design and the industry's innovations are the focus of the Pop Up My Bathroom trend showcase at ISH 2023. Established by the VDS and Messe Frankfurt, the trend platform for the bathroom sector hosted a large-scale exhibition and accompanying talk forum, both of which were aimed not just at the trades but at creatives such as architects, professional bathroom planners and designers. Pop Up My Bathroom tracks the most important trend developments in contemporary bathroom design.
ISH 2023 Living Bathroom: The Bathroom that Feels Like Home
The most obvious development in recent years is the bathroom's evolution into fully-fledged living space. Today cosiness, zeitgeist, fashion and style are crucial criteria for professional bathroom design, as well as modern usage concepts that enhance the quality of the space and permit health-related activities. Besides atmospheric lighting systems and lamps, the bathroom is also increasingly home to stools, cushions and armchairs, rugs and wallpaper, color-coordinated accessories and top-quality, cosy bathroom furniture that guarantees adequate storage space. The bathroom is featuring more furniture and more textiles and gaining both flexibility and attractiveness.
ISH 2023 Sustainable Bathroom: Water and Energy Savings and Eco-Friendly Planning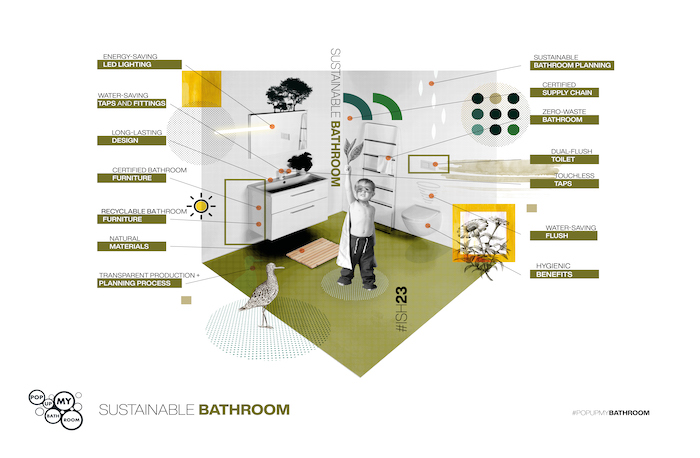 The bathroom is increasingly being regarded from a sustainability perspective and evaluated critically. Replacing aging bathroom products with more efficient and highly functional upgrades therefore makes good sense with regard to building ecology as well. When it comes to saving water and energy, just installing new hand showers and washbasin mixers will have a considerable effect and is an easy measure to implement. As for toilets, there are numerous innovations for a sustainable bathroom on the market that not only save water but reduce the amount of cleaning products required too, including rimless models, water-saving bowl geometries, dual flush technologies and hygienic finishes. At the same time, shower toilets and bidets are playing an increasingly important role and contribute to the bathroom's sustainability because they save toilet paper and make moist toilet tissue totally superfluous. However, apart from the actual bathroom equipment, consumers will increasingly be paying attention to the "complete package" – i.e., not just the product itself but the brand behind it as well. The German bathroom industry is already one step ahead in that respect: sustainability has long been embedded in many companies' corporate culture. All in all, the products and technologies seen at ISH 2023 confirm that sustainability will play an ever more important role in bathroom-related purchase decisions in the years ahead.
The Zero Waste trend is also becoming increasingly important for the bathroom. The goal is to avoid waste completely. That particularly applies to plastic waste, large amounts of which tend to be associated with the bathroom because toiletries and cleaning products like toothpaste, shower gel, shampoo, multipurpose cleaner etc. generally come in plastic containers. Daily usage inevitably leads to high consumption of fossil resources and non-biodegradable materials. According to head of the VDS Jens J. Wischmann, developing alternatives will take a joint effort: "Of course that's not an endeavour that our sector is directly involved in to any great extent. But even so, we need to be aware of the problem and encourage acceptance of the necessary changes on the broadest scale possible."
ISH 2023 Wellbeing: Water as a Connecting Element for Relaxing and Regenerating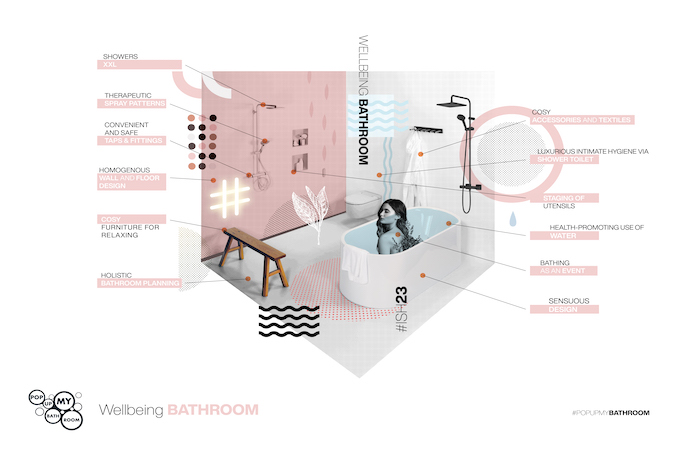 The desire to regenerate is a powerful need and has created a huge market for wellness-related products and services. The closely related concept of wellbeing focuses on mental and emotional aspects in addition to the physical dimension, and both wellness and wellbeing are of growing importance to consumers. Ideas and inspiration from the hospitality sector are increasingly being translated into private settings. Turning the bathroom into a private spa comes with the promise of regenerative time out with health-promoting benefits – a little piece of luxury. Mindfulness, taking time for yourself, being active, a neat and tidy home, eating healthily, simplicity: the wellbeing trend stands for a lifestyle that doesn't just seek relaxation but meaningful activities that increase contentment and make us happy as well. A Wellbeing Bathroom can play an important supporting role in all that – with both simple and highly complex products like a bathtub or whirlpool (for indoors or out), an infrared sauna or individually programmable showers, classic water applications, a clean aesthetic, smart products for therapeutic lighting and experience-enhancing multimedia features, or a personal space for health-promoting activities. A bathroom for wellbeing is a place where all the senses are alive or come alive – with water as the key element.
ISH 2023 Tiny Bathroom: Clever Ideas for a Compact Bathroom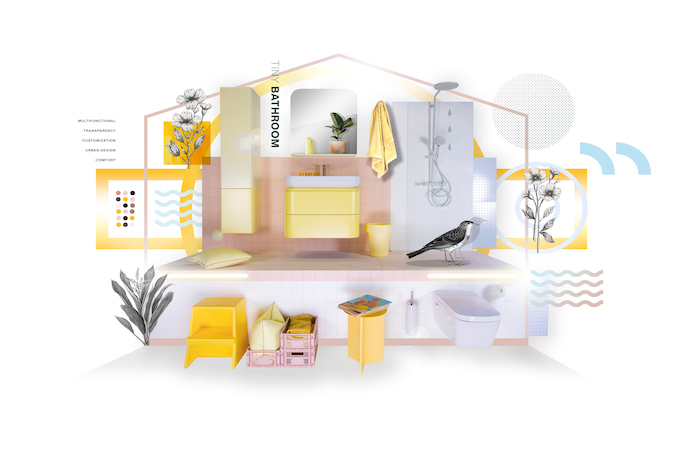 Even after Covid, the urban lifestyle has lost nothing of its attractiveness. On the contrary: it seems as if our quality of life is more closely connected to the quality of our living environment than ever before. People are trying to compensate for a lack of space by upgrading their homes and implementing clever usage concepts. And especially when it comes to the bathroom, a golden rule applies: the more limited the space, the more important creative ideas are. Seen at ISH 2023, the distinguishing characteristics of the Tiny Bathroom are a simple aesthetic, new, scaled-down product categories, smart solutions, comfort and convenience, as well as a high degree of customization. The digitalized production of made-to measure components for the vanity unit, bathroom furniture or shower provides the necessary technical capabilities. At the same time, a Tiny Bathroom calls for a great deal of precision, as well as meticulous planning and workmanship.
ISH 2023 Emotional Bathroom: The Art of Perfect Staging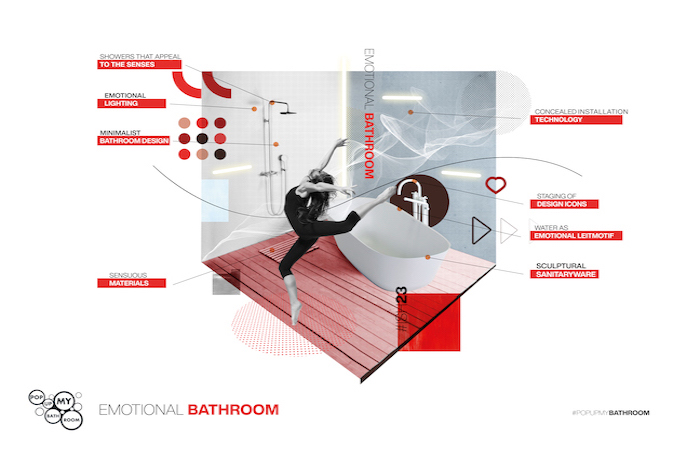 When it comes to the design quality of their bathroom, consumers' requirements are growing all the time. The trades are increasingly playing the role of lifestyle consultants and interior design advisors. Because designing a bathroom doesn't stop at installing water-carrying products: a growing number of experience-focused high-tech products provide a toolbox for turning the bathroom into a space with high emotional value for its users. The focus is not, as it used to be, on the fascination of technology, but on the experience itself, as well as ease of use and personalization options. That particularly applies to the lighting systems that are integrated into many bathroom products. Professional planning of the lighting ensures the bathroom is equipped for various uses. And a bathroom only truly becomes a private spa with a harmonious choice of colors and materials, perfectly staged accessories and well-coordinated sanitaryware.
Design Plus Award Winners at ISH
A total of 133 entries to the ISH Design Plus Competition were received from 88 companies from 23 countries for the award. The jury of four experts evaluated all the entries in terms of innovation, ecology and design. The winning products are characterised by sensitive design and reduction to the technologically essential. Here are three of the 32 winning products.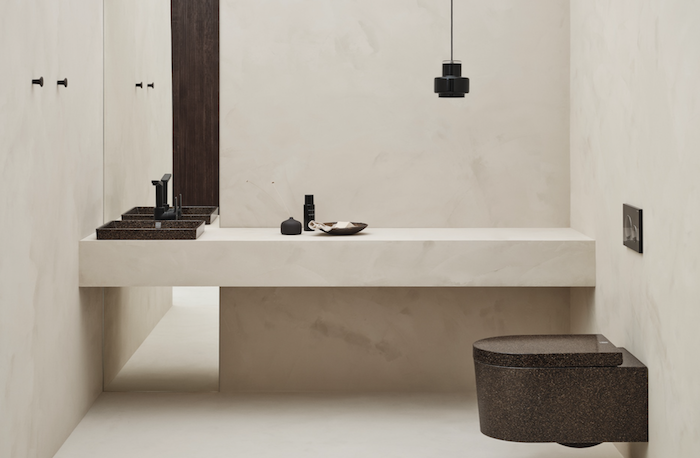 Manufacturer: Woodio Oy
Design: Woodio Oy
Woodio Block is the world's first 100% waterproof solid wood composite toilet seat made from real wood chips and advanced resins. Woodio Block is made in Finland with a minimal carbon footprint. The modern, subtle and round shaped wall-mounted Block toilet seat celebrates Scandinavian form and function while offering a good conscience.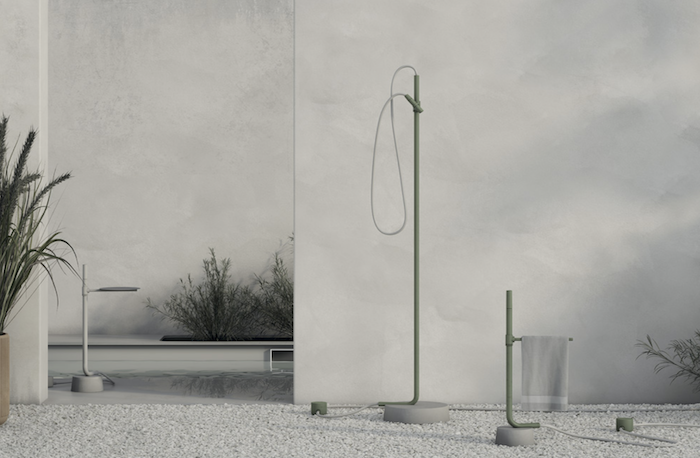 Manufacturer: FIMA Carlo Frattini Spa
Design: FIMA Carlo Frattini Spa
Extreme practicality and total positioning freedom are the main features of Ingiro: on one side, its ergonomics is designed for simple and immediate use; on the other side, it allows you to take a shower wherever the flexible hose can reach, thanks to a water connection that does not imply a fixed position of the item. Additionally, the concrete base provides stability in any situation.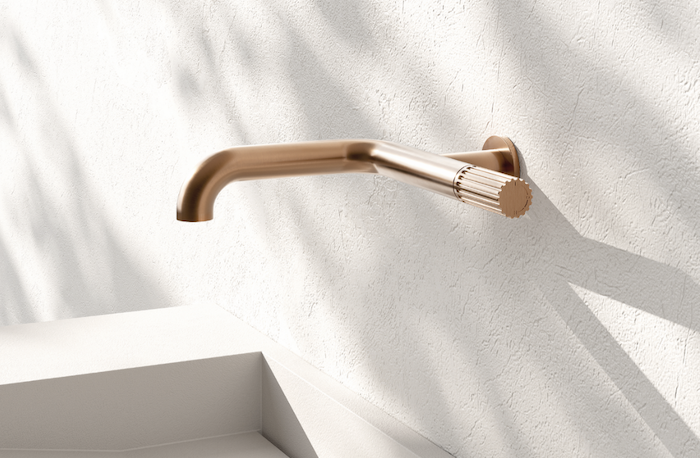 Manufacturer: RVB sa/nv
Design: RVB sa/nv
The brand new Joe collection is inspired by urban and industrial curves, by the archetype and minimalist form of pipes. With a tube as a starting point, its design is unique, its shapes are strong, continuous and regular. The progressive system with simultaneous growth of flow and heat offers adjustment in one continuous movement. A design by Co.Studio underlined by the slogan: «FORM FOLLOWS FUNCTION».
This article was originally published on March 21, 2023. It was updated on April 12, 2023.