KBB Hot Topic: Is America No Longer Cooking with Gas?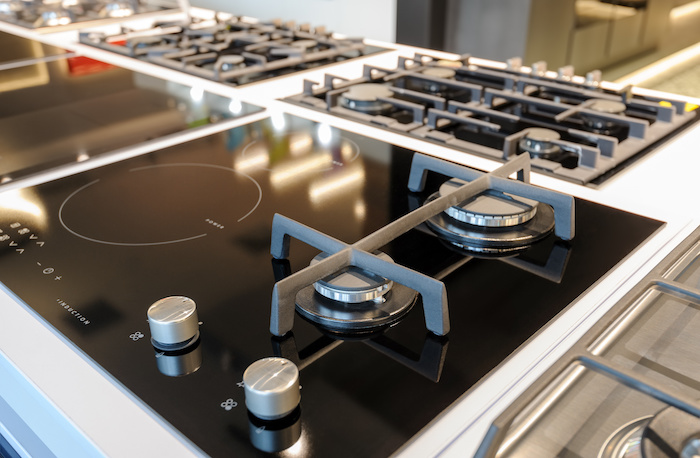 March 7, 2023
Photo: starush/Adobe Stock
It erupted around Thanksgiving and has been on high-heat since that cooking-intense holiday: the controversy over the health risks engendered by gas burners. Earlier this year, the issue reached a new boiling point when an official at the Consumer Product Safety Commission raised [and later seemed to rescind] the possibility of a ban on gas ranges.
Reaction was swift and represented a variety of perspectives. Some saw the proposed phasing out of gas as being in the best interests of both human and environmental health. Others argued such a move would unfairly limit consumer choices while increasing costs for customers. Still others claimed the problem more accurately fell under the umbrella of home ventilation systems.
KBB recently reached out to some kitchen designers and appliance manufacturers to get their personal and professional takes on the topic.
Is America No Longer Cooking with Gas? Kitchen Industry Pros Weigh In.
• Timothy Lee, marketing manager for THOR Kitchen:
"For years, we've been seeing more interest in electric and induction appliances and have introduced several new cooktops and ranges to meet that demand. However, gas appliances will likely continue to be a top choice for many, and because THOR Kitchen has the benefit of owning our own manufacturing facilities, we can ensure first-hand that our products meet industry and government standards for safety. For additional peace of mind, we also recommend that customers purchase a quality ventilation hood to expel water vapors, steam and heat for top air quality in the kitchen."
• Anna Gibson, CKBD, AKG Design Studio:
"As someone who loves cooking, I always loved gas – how you can control it with ease and use the raw power of the open flame that just can't be replicated with electric or induction tops. With that said, we just built an addition on our house, and I had the option to add liquid propane so I could get gas. But I chose induction, and I love it! It is super-fast and easy to clean, and I no longer burn food because it is easy to control the heat levels and keep food warm for hours. As a designer, I love that induction tops come in different colors, and we can integrate them into the countertop with flush installation that elevates the whole look of the kitchen."
• Jennifer Stoner, president and chief creative director, Jennifer Stoner Interiors:
"Induction is certainly the wave of the future and offers many benefits, including quick heating, cooler surfaces for safety and more precise even cooking. But Americans are still enamored with their gas ranges. This is why when recently renovating my own kitchen, we installed the Signature Kitchen Suite's 48-in. Pro Range, which features an induction cooktop along with four gas burners. It's the best of both worlds and solved the argument with my husband over which we should get."
• Jennifer Bradely, global product development, Fisher + Paykel:
"Historically, downdrafts have not taken into consideration the cooking surface it is paired with, and there is a difference on the airflow output between gas and induction. Gas produces more airflow due to the flame, and the downdraft unit needs to take this into consideration.
"When we launched our first induction downdraft cooktop in 2022, we designed it to ensure that the downdraft is compatible with the induction cooktop. We centered the downdraft component in the middle of the cooktop to maximize the ventilation performance. The proximity is closer to the pot or pan, which is the source of the airflow and creates the most compatible combination that has sufficient extraction."
• Sharon L. Sherman, ASID, CKD, CID, NCIDQI, Thyme & Place Design:
"I understand the reason for converting to electric, especially in new construction. In older buildings in the city, getting enough power to run an all-electric kitchen is almost impossible. Gas is easier all around, although it can be dangerous. Gas explosions do happen, and gas leaks are bad for both the environment and the safety of the building inhabitants. Gas is certainly more efficient than propane, which does become the fuel of choice when natural gas or electric are not feasible.
"Electric has its issues as well, no electricity no cooking or anything else. Our power grid may not have the ability to handle the increased demands for electricity. It will remain to be seen what the outcome is. Both have their proponents and detractors. Change comes slowly, but once people become familiar with the benefits of induction cooking – along with the speed and ease of cleaning – I do believe more and more will happily switch from gas."
Perhaps because kitchen-industry professionals are more informed on the topic than the general public, the gas versus induction question is less divisive within the community. To a large extent, these are the people and brands that will ultimately be educating clients and consumers on the issue.
—By Leslie Clagett, KBB Managing Editor
This article was factchecked on April 5, 2023. All information remains correct.