Meet Today's High-Tech Kitchen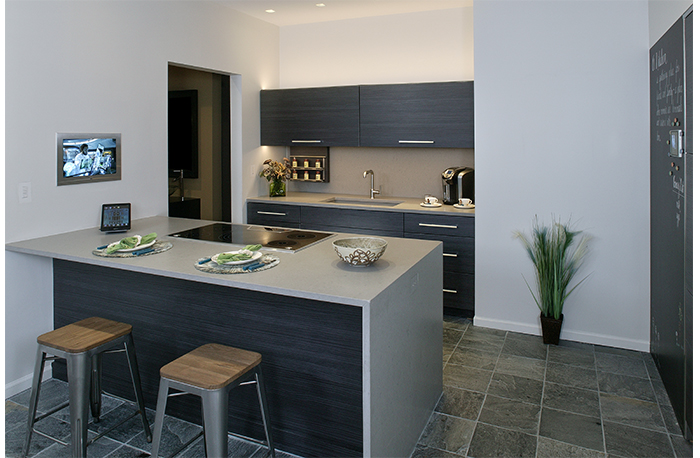 March 30, 2018
Custom integration company Barrett's Technology Solutions in Naperville, Ill., knows how important the kitchen is to any homeowner, which is why the company set out to create a high-tech kitchen vignette in its showroom so clients can see the latest, greatest smart home systems in action. The 8,000-sq.-ft. design center includes a high-tech family room, bedroom, bathroom, outdoor living space and high-performance media room, but it's the kitchen that is the major attraction for visiting builders, interior designers, architects and consumers.
According to company president Joe Barrett, the kitchen could be considered the smartest area of the entire design center.
"The kitchen is the hub of the house and therefore is the likely area to serve as its technology center," he continued. "The high-tech possibilities for a kitchen are limitless, so we installed every conceivable smart system and think it's probably one of the most automated kitchens in the country."
Barrett's works closely with design firm PB Kitchen Design out of Geneva, Ill., to create high-tech kitchens for its clients. Not that Barrett expects every person who visits the store and hires his company to automate their home to incorporate all the technology showcased in the kitchen – or the technologies on display in any other vignette, for that matter.
"Our Design Center is all about ideas and possibilities," he said. "We put prices on nothing so that it's more of a learning environment where people feel comfortable exploring everything that's available."
So, what kinds of innovative technologies are cooking in this super-smart kitchen?
Imperceptible outlets, keypads, heating/cooling vents and other products. Every piece of technology that's mounted to the walls or the ceiling utilizes TRUFIG, a design solution that seamlessly integrates common-room elements into the architecture and design of a room. The products are mounted completely flush with the wall and ceiling surfaces.
State-of-the-art intercom. An intercom station mounted outside of a door that leads to the kitchen provides both a visual and audible indication of visitors. When a visitor presses a button on the intercom station, a chime plays through the kitchen speakers (if music is playing, the song is temporarily muted), and real-time video captured by the intercom station's built-in camera can be viewed on the screen of an iOS device, like an iPhone or iPad.
Electronic door lock. Through an app on an iOS device, a user can engage and disengage an electronic lock on the door leading to the kitchen.
A motorized spice rack. Built into one of the upper cabinets, the spice rack responds to a signal transmitted from a wall-mounted keypad. When a user presses the button labeled Cook, the rack lowers into reach, and the lights over the kitchen sink and island brighten to a 100 percent intensity level.
Four low-profile Sonance in-ceiling speakers. The 4-in., square-shaped speakers spill music and TV audio evenly over the kitchen area without drawing any attention to their cosmetic features. The square shape resembles the ceiling light fixtures and evokes a modern aesthetic. A Bowers & Wilkins subwoofer tucked into one of the lower kitchen cabinets enhances the audio with plenty of bass. The speakers and subwoofer are connected to a Savant whole-house music system, which offers access to streaming services like Pandora and Spotify, as well as to a user's iTunes library.
A 19-in. Seura waterproof TV. Flush mounted in the backsplash and framed in a stainless steel bezel, the TV matches the stainless steel appliances, takes up no counter space and can handle an occasional splash of water.
Seven custom-programmed lighting scenes. At the touch of a button on a Lutron keypad, users can instantly change the lighting conditions of the kitchen to suit a variety of activities: cooking, entertaining, cleaning, etc. This same keypad can operate the kitchen's motorized window shades.
iPad-controllable environment. The entire kitchen environment – and environments in other areas of the Design Center – can be monitored, managed and controlled through a single Savant app on an iPad, which can be docked into a charging station on the wall.– Lisa Montgomery is the editor of Electronic House