NKBA 2023 Design Trends Report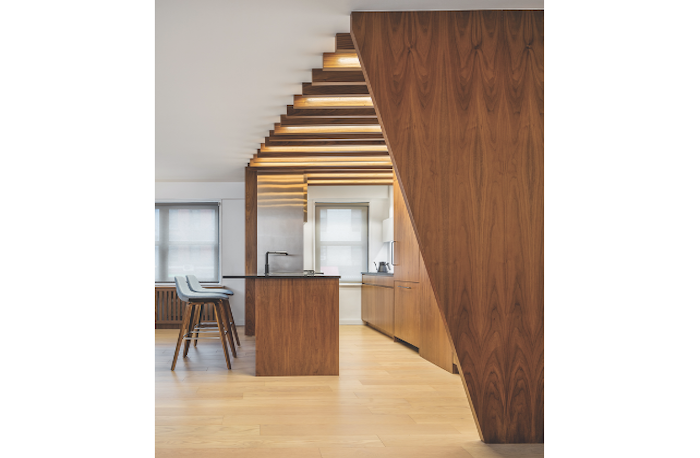 March 6, 2023
The NKBA 2023 Design Trends research report, which surveyed members across all kitchen and bath segments, points to the continued importance of the kitchen and bath as key spaces in the home. Over the next several years, the focus will remain on comfortable, easy-to-clean spaces with ample storage and a nod toward technology. The report highlights these and other top trends.
NKBA 2023 Design Trends: Space
Kitchen
Clutter is the enemy in today's kitchens, with 76% of those surveyed adding a separate walk-in pantry for their clients. Storage alternatives to hide clutter also included floor-to-ceiling cabinets, small appliance hideaways on countertops and deeper bottom cabinets that are easier to access as consumers age.
Expanded kitchens are also likely to have a larger island that can be used for meal prep, entertaining and work/school areas. In fact, nearly 40% of survey respondents said clients are looking to add a second island.
And clients want lots of natural light flooding into the kitchen: 74% of NKBA members said they added bigger windows with fewer panes, while 33% added glass doors.
Key Kitchen Space Trends
• Expanded kitchens with larger islands • More storage via walk-in pantries • Bigger windows with fewer panes
Bath
The primary bath is becoming a focal point for many couples as they look to create a private, spa-like space where they can relax and refresh. The addition of coffee and wine bars, sitting areas and expansive dressing rooms is turning the primary bath into more of a retreat than just a room. And there's a definite movement – if there is enough space – toward having his-and-her water closets.
Indeed, 77% of designers surveyed said they removed the tub in the primary bath to increase the size of the shower so it can fit two or three people – or even the entire family and the dog.
Like the kitchen, many consumers want natural light to fill the space, which is why designers are adding larger windows and glass doors to the primary bath that open onto a deck or patio.
Key Bath Space Trends
• Expanded baths with water closets • Addition of dressing/sitting areas • Larger, two-person (or more) showers
NKBA 2023 Design Trends: Color
Kitchen
Most of the NKBA members surveyed say they expect more color in the kitchen over the next two to three years. Consumers are looking beyond neutrals to add some color to their everyday spaces. In fact, 60% of those surveyed said green is the top color choice for kitchen cabinets. And if there is an island, chances are it has a contrasting color to the cabinets to give the kitchen a bit of drama. The NKBA 2023 design trends indicate a growing preference for black appliances, giving a kitchen a modern and sophisticated look. Stainless is still number one, but the survey shows a movement away from this to black or even appliances in other colors. And there is a definite shift toward paneled refrigerators that merge with the cabinetry.
Key Kitchen Color Trends
• More green/blue cabinets • Bold backsplashes/details • Black appliances
Bath
A majority of those surveyed stressed the trend toward spa-like baths, featuring calming and soothing colors. Nevertheless, consumers also want baths with vibrant accent colors of blues, greens, yellows and pinks.
And, as a point of contrast, nearly 50% of designers surveyed said clients want to add bold artwork to their primary bath to create interest.
It seems consumers are not afraid to add color to the bath but only as a focal point or accent.
Consumers are feeling more comfortable with bolder, more dramatic looks in the bath, especially when it comes to accents or accessories like hardware. In fact, 25% of the designers surveyed see matte golds gaining popularity, followed by bronzes and silvers.
Key Bath Color Trends
• Earthy, natural tones • Spa-like with blues/greens • Color or metallic accents
NKBA 2023 Design Trends: Material
Kitchen
The pandemic has forever changed how consumers view surfaces, especially in the kitchen where the majority of those surveyed said their clients are looking for easy-to-clean materials. In fact, 81% of those surveyed said they are putting in quartz for countertops.
Also gaining traction is easy-to-care-for sintered stone, which had barely been mentioned in previous surveys. Of course, grout is an absolute no-go for many clients as they find it too difficult to keep clean, hence the shift toward larger slabs and long subway tiles for kitchen backsplashes.
Many designers are also opting for painted wood and wood-grain cabinets as consumers move toward a more natural look. In fact, 62% of designers surveyed said clients are opting for full wood-grain door facings on kitchen cabinets. And nearly 50% of those surveyed said hard- wood or engineered wood is clients' top choice for kitchen flooring.
Key Kitchen Material Trends
• Quartz for countertops • Wood-grain cabinets • Slabs/long subway tiles for backsplashes
Bath
Like the kitchen, consumers are looking for easy-to-care-for materials in their baths as well. The preference is for quartz and quartzite for vanity countertops, while the base is mostly full-grain or painted wood – in keeping with a spa-like approach to most primary baths.
As for flooring, 71% of designers said they are installing ceramic and porcelain tile in the primary bath. Meanwhile, nearly 60% of those surveyed said large-format tiles are gaining in popularity, and 40% noted slabs are on the up-tick with consumers – all of which stems from
consumers' shift away from grout and toward easier-to-maintain materials.
Key Bath Material Trends
• Ceramic/porcelain tile • Large-format tile or slabs • Painted or full-grain wood vanities
NKBA 2023 Design Trends: Product
Unlike in years past, the majority of designers participating in the NKBA 2023 design trends survey said that "at times" they would consider a manufacturer's sustainability practices when recommending a product to clients.
Kitchen
As consumers shift toward a more streamlined (and indeed more European) look in the kitchen, they are opting for appliance panels that match the overall cabinet facings. This is especially true for refrigerators, where nearly 30% of those surveyed noted a rise in popularity of the column style. And as kitchens expand, there is a shift toward secondary drawer refrigerators and dishwashers.
The biggest shift, however, may be the move away from chandeliers toward smaller and more focused task lighting. In fact, more than 50% of those surveyed said clients are requesting recessed and pendant lighting in their kitchens. But according to the NKBA 2023 design trends report, the most often requested lighting is under-cabinet, cited by 73% of designers.
Key Kitchen Product Trends
• Two of the same appliance (dishwashers, ovens, etc.) • Refrigerator and microwave drawers • Smaller, focused task lighting
Bath
As baths expand, so do showers. But the majority of those surveyed said clients are also looking for less glass and more open-door options for their larger showers. Glass, like grout, is harder to keep clean.
In addition, as consumers realize that their current homes – because of rising interest rates and higher home prices – may be their forever homes, they are looking for more aging-in-place amenities: showers with seats, grab bars and zero clearance.
And, of course, nearly 50% of those surveyed said clients are looking to add "smart" toilets to their primary baths. Meanwhile, the popularity of bidets (barely a blip on clients' bath product roster pre-pandemic) continues to gain traction as consumers focus on sanitization and hygiene.
Key Bath Product Trends
• Floating vanities • Decorative hardware • Smart toilets/bidets
By NKBA Staff