Opendoor Polls Home Buyers on Save or Splurge Budget Items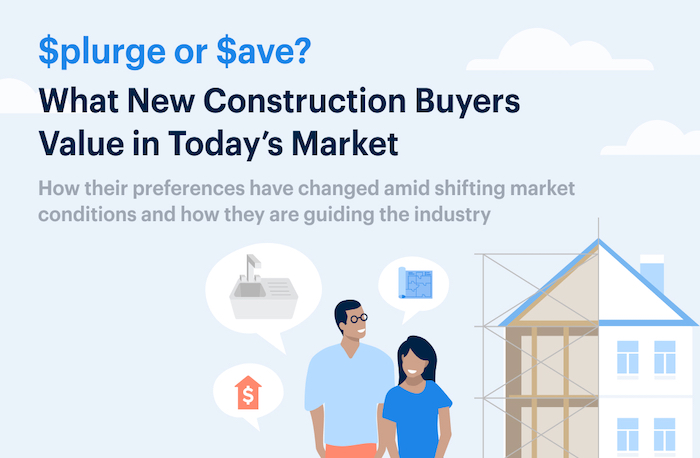 April 11, 2023
To better understand how buyer sentiment and behaviors are changing amid shifting market conditions, Opendoor surveyed new construction home buyers in the U.S., including those who bought pre-pandemic (2-3 years ago), those who bought more recently (within the last year) and prospective buyers.
Speaking exclusively to KBB, Alex Toth, general manager of Opendoor's Home Builder Partnership Program, highlights some of the data points that are germane to kitchen and bath features.
"Opendoor's 'Splurge or Save' survey reveals what recent, current and prospective buyers value in new construction homes and how their preferences might be changing amid shifting market conditions. Overall, buyers are more heavily focusing on the budget, but they are investing in items like energy-efficient appliances that can have a net-positive, long-term impact on the wallet.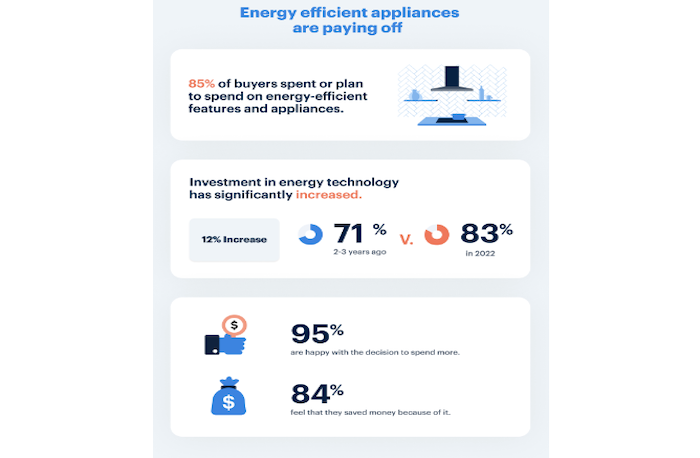 "When it comes to future trends, prospective buyers are planning to allocate the most budget to their kitchens and bedrooms equally (54%) followed by their bathrooms (42%). However, the top 'splurge' feature is somewhat surprising – it's flooring. 60% of recent buyers rank it top of their list followed by energy-efficient features or appliances (56%) and countertops (55%).
"Our survey reveals that energy efficient appliances and fixtures should be a necessity for builders, but they're also a good investment for new construction buyers: 85% of buyers across all generations are spending, or plan to spend, extra on energy-efficient appliances. A resounding 84% of those who already invested in energy-efficient fixtures say they saved money because of them, which led to a 95% satisfaction rate on their investment."
Topline Takeaways from Opendoor Survey
Buyers are budgeting, and their preferences are changing
• With uncertain market conditions and rising mortgage rates, more buyers are budget-minded. Significantly more (93%) new construction home buyers who bought in the past year said they set a budget—that's 9% more than those who bought 2-3 years ago (84%).
• Not all buyers across age groups are as budget-minded. After reviewing their budgets, significantly more (52%) Boomers indicated they stuck to it, while millennials and Gen Xers opted to increase (26% and 39% respectively).
• What's the biggest budget category for those looking to buy? Opendoor found it was a tie for first place. Prospective buyers spent or planned to spend the most on the kitchen and bedrooms (54% each); bathrooms coming in third (42%).
• However, budget allocation has changed recently. We found that 36% of those who bought a new construction home 2-3 years ago said the bedroom was the most important vs. only 19% of buyers in the last year.
Spending more than expected
• If you think you will go over budget, you probably will. Over half (53%) of prospective buyers anticipated going over budget, and about the same number (52%) of those who bought said they did exceed their budget.
• Even though buyers allotted the most budget for the kitchen, bedrooms and bathrooms, they still exceeded their estimates. 47% of buyers said they went over budget on their kitchens, 32% on bathrooms, and 31% on bedrooms.
• However, budget-busting varied by region. Overall, southerners were least likely to go over budget (45%), followed by those in west (55%), northwest (56%) and northeast (59%).
• Do-It-Yourself (DIY) is another approach to saving costs. When asked if they would be likely to do DIY projects in order to save, 35% of Gen Xers, 33% of Millennials, and 27% of Boomers said they would.
• When it comes to a building timeline, time is money. Over half (53%) of all buyers were or are willing to pay more to complete their home faster. Regionally, those in the northeast are more open to paying extra for speed (69% vs. 53% national average), while those in the south (45%) are least open to incurring an additional cost.
• What if buyers had more money in their budget? An increased budget of 20% will likely lead to upgrades: 63% of respondents said they would make more enhancements, 36% would choose a different floor plan/layout, and 25% would opt for a different location. The most common lifestyle enhancements were swimming pool (50%), game room (41%), home theater (39%), and wine cellar (29%).
When are buyers $aving and when are they $plurging?
• There's hope for those trying to stick to their budgets. About 2 in 5 (43%) of total buyers responding to the Opendoor survey wanted to splurge on certain features, but resisted and saved instead.
• What amenities are most important these days? When asked to rank the importance of new construction home amenities, energy-efficient features and appliances topped the "very important" list (83%), followed by an office or work area (75%), and landscaping (73%).
• Energy efficiency and landscaping are increasingly more important than they used to be. Energy efficiency importance last year: 83% vs. 75% 2-3 years ago. Landscaping importance last year: 73% vs. 61% 2-3 years ago.
This article was updated on April 10, 2023. It was originally published on April 3, 2023.