CEA Design ABACO System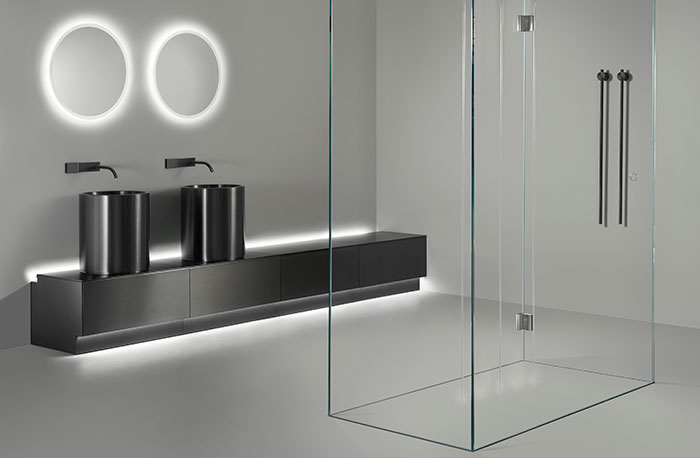 May 28, 2022
New from CEA Design, ABACO is a modular, sober and linear system that puts things in order and reorganizes the functions and plant-engineering technology within a single volume, aimed at adapting to any room of a house.
It presents itself as a silent and elegant object that when in function, shows all the strength of its innovation. It is entirely made of stainless steel, a high-performance material that is hygienic, antibacterial, totally recyclable and ideal in a bathroom environment. Its durability over time is the essence of quality and ecology. Even the special finishes in which ABACO is available are obtained through environmentally friendly processes.
To enrich the modularity of the compositions, natural cladding materials, such as marble and wood, are added, allowing different interpretations and shades for an even more sculptural and refined style. To highlight the innovative character of ABACO, the thickness of the front of the drawer units and the tops have been reduced to 10 mm for a particularly clean and elegant volume. 
If on one hand, the new CEA Design project translates aesthetic and technological innovation, a synthesis of CEA's history, on the other hand it reflects the values of sustainability that the company has always been a spokesperson for. ABACO is the consolidation of a path made of professional satisfactions and successes, looking to the community of architects and designers who have always believed in CEA's capacity for innovation. ABACO is recognized by the EUIPO (European Union Intellectual Property Office) as a Utility Model Patent.