DXV's Belshire Bathroom Collection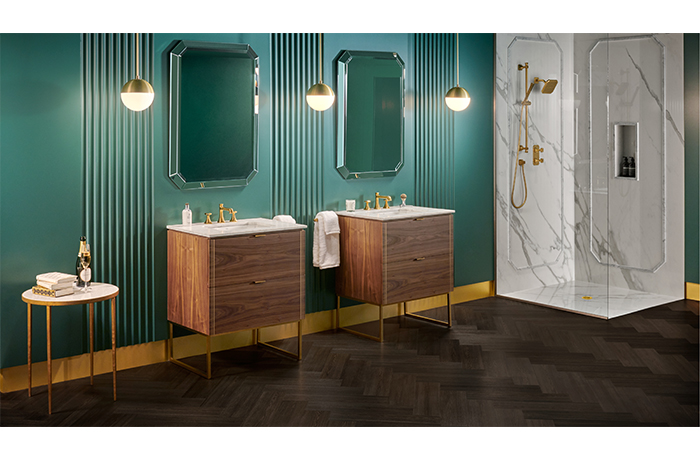 September 23, 2020
Luxury kitchen and bathroom brand DXV officially launched its new Belshire bathroom collection. Inspired by the Art Deco style of the 1920s, Belshire offers discerning homeowners and designers a full bathroom suite of exquisite fittings, fixtures and furniture. Belshire joins the DXV Golden Era Movement, celebrating the unique design aesthetic of the 1920s period. Defined by exquisite details, master craftsmanship and the finest materials, each piece in the Belshire collection exudes the optimism, sophistication and elegance of the era, enhanced by the conveniences of today. 
"At the dawn of the 2020s, we celebrate Art Deco's glamour and exuberance, exquisite craftmanship and luxurious materials with our new Belshire collection," said Jean-Jacques L'Henaff, vice president of design for DXV. "Our team of world-class designers and engineers spent three years honing every curve and detail of each product until the lines and proportions reflected a unique and perfect balance between elegance and fluidity. The result is a striking assortment that effortlessly infuses beauty, quality and creativity into everyday living."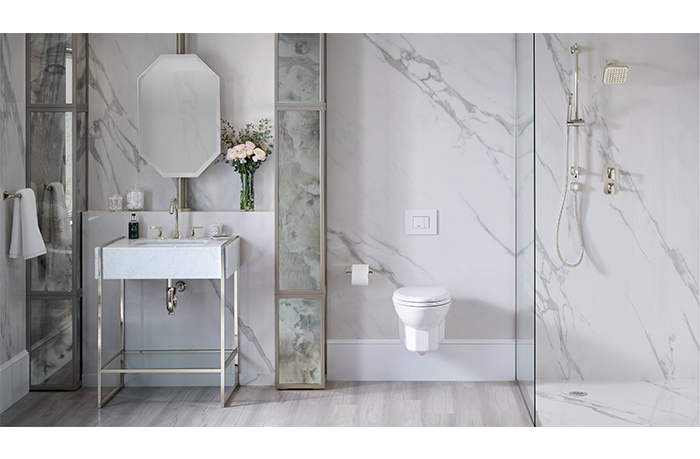 Timeless Design
Inspired by the Chrysler Building, Empire State Building and Stella Tower, each an architectural icon of the New York City landscape, the Belshire collection pays tribute to the past, celebrates the present and promises the lasting beauty exemplified in these treasured structures. 
Meticulous Craftsmanship
Superior materials are at the heart of the Belshire collection. Handcrafted of natural oak, warm walnut and Carrara marble by skilled Portuguese craftsmen, each cabinet and console makes a statement when complemented by the exquisite faucets, shower and bath sets that comprise this unique collection. The faceted sinks, one-piece and wall-hung toilets and beautiful freestanding soaking tub underscore the expertise inherent in the creation of Belshire. Each piece exudes luxury and sophistication, fusing design with innovation and a modern sensibility.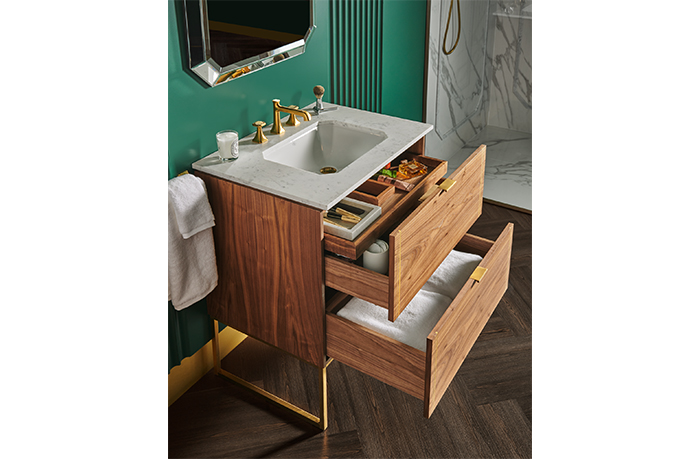 Personal Expression
The DXV Belshire collection makes one-of-a-kind bathroom design a reality with customizable fittings. This rare option offers the choice of lever, cross or cushion handles on low or high-spout faucets. Like the finest jewelry, each handle and spout is meticulously detailed and finished to add the perfect hint of sparkle and shine in a choice of satin brass, platinum nickel, brushed nickel or chrome. This customization allows for the creation of a truly unique bathroom. 
Perfectly Curated
Every piece in the Belshire collection has been meticulously created and carefully curated to result in the creation of an exceptionally luxurious bathroom. Handcrafted cabinets and consoles, elegant faucets, shower and tub fittings and pressure balance and thermostatic trim kits, toilets, sinks, freestanding tub and accessories come together effortlessly, creating perfect harmony in today's well-appointed home. 
The Belshire collection will be available through an exclusive network of showrooms across North America.