Dornbracht MEM Handles x Nature Squared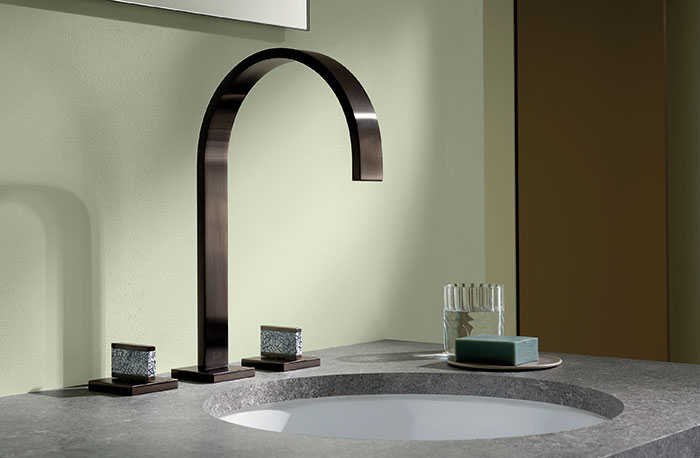 November 18, 2023
Dornbracht is adding exclusive, custom versions of MEM handles to its assortment, and a proportion of these consist of natural products from Nature Squared. The two companies have combined their expertise to produce high-quality surfaces, and every handle is one of a kind. The possible combinations of seven materials and five finishes mean that there are more than 30 options to choose from for the washstand, shower or bath.
Nature Squared stands for elaborately crafted finishes with a special beauty that is in stark contrast to the materials used to make them. The only materials being processed are those that are normally thrown away, such as eggshells or seashells. The Swiss company uses them to make complex, ornate inlays. For example, seashells are cracked by hand and inlaid on to a carrier for a unique texture. Production takes place in the Philippines following a low-impact design and manufacturing process and incorporating a strong, artisanal tradition.
From now, designers can choose between the textured patterns Dark Pen Mars-Black, Hatchet Shell Gaya-White, Mussel Shell Gaya-Blue and Black Agate Ariel, that are all made from seashells. Pearl Shell Callisto, mother-of-pearl variants in black and white are also available, as is Eggshell Snakeskin-Black, which is made from eggshells. The materials are stylishly and harmoniously incorporated into the respective handles. In combination with the Dornbracht finishes chrome, brushed chrome, platinum, brushed dark platinum and brushed durabrass (23kt gold), they add refinement and a touch of luxury to the bathroom. Nature Squared is renowned for its bespoke capabilities, allowing clients access to a wider surface offering, as well as applying Nature Squared materials to other products within interior bathroom design.
Photo credit: Dornbracht