Duravit USA Qatego Collection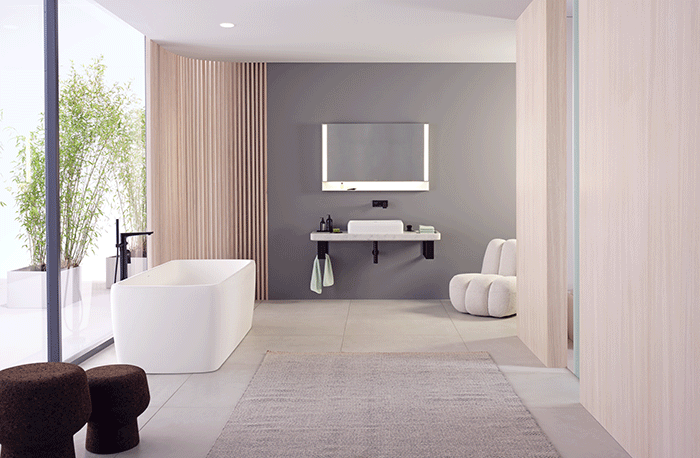 October 31, 2023
Duravit USA Inc. presents Qatego, its first collection designed in collaboration with Studio F. A. Porsche, the global design agency renowned for its rich legacy in automotive and product design. 
Based in the Austrian Alps, Studio F.A. Porsche started in 1963 when Ferdinand Alexander Porsche designed the iconic Porsche 911 sports car. F. A. Porsche set up a dedicated studio for product design in 1972, which today remains true to its founder's design philosophy. 
Developed through a mutual respect for authentic materials, elegance and durability, Qatego is a complete bathroom range with premium ceramics and furniture. Inspired by stones gently polished by water, the series features minimalist designs with distinctive details that exude a sense of naturalness. Qatego harmoniously brings together tactile materials like wood, ceramic and natural stone, as well as opposing design forms with softly rounded fixtures and straight-lined furniture, to create spaces for pure relaxation.   
Strict geometries: the furniture
Qatego furnishings feature a linear design language and are offered in a range of styles. From a console vanity design with a drawer and resting above-counter basin to a seamlessly integrated built-in washbasin unit that floats against the wall, Qatego's expanded furniture options offer customers varied solutions. In functional terms, the furnishings also reflect an interplay of open and closed surfaces. This motif can be traced across all of the designs, including the tall cabinets with hinged doors, mirrors, and mirrored cabinets with a storage shelf. The furnishings' surfaces are all anti-fingerprint while the cabinets and doors have tip-on opening and soft-closing features. The mirror offers additional ambient lighting with sensor-control and de-fogging options for enhanced wellness routines. 
Playing with colors & materials
Made from sustainable PEFC-certified wood, the Qatego furnishings are available in six neutral finishes ranging from white matte to white high gloss, as well as wood tones, such as marbled oak, black oak and oak terra. Underlining the collection's biophilic design influence, the vanity console unit combines the ceramic above-counter basins with natural stone panels made from Carrara marble, Lavica stone and Travertine – a first for the German brand. The console supports, made from anthracite-colored metal, simultaneously act as towel holders. Other thoughtful details include the stone panel's recesses which offer space for accessories, such as a brush or soap dispenser, to the left or right of the above-counter basin. Each of the natural stone panels features original coloring with varied shimmering and unique veining and are available in two sizes (approximately 39 and 55 inches in width). The protective seal on the stone surface makes for easy cleaning.
Gently rounded: the ceramic fixtures
Drawing on the inspiration of water-worn pebbles, the design language of Qatego's ceramic fixtures combines clear geometries with soft edges that have been delicately and precisely crafted. The rectangular washbasins are available in three styles — as a wall-mounted model and an above-counter basin with a tap platform that offers adequate storage space. These are joined by an undercounter basin with defined arched sides that can be seamlessly combined with the console vanity unit.
Mimicking the shape of the sinks, the freestanding bathtub is another eye-catching ceramic in the collection. Made of DuroCast Plus mineral cast with molded-in color, this bathtub is ergonomically shaped to comfortably provide lower back support while sitting and has a striking velvety surface for ample relaxation. 
A wall-mounted and free-standing toilet blend seamlessly into the overall concept round off the sanitary objects. Pre-fitted hinges enable the toilet seat to be quickly and easily installed. All ceramic elements are optionally available with the antibacterial ceramic glaze HygieneGlaze, which achieves a superior hygiene standard. After just six hours, approximately 90% of bacteria (e.g., coli bacteria) are eliminated, with approximately 99.9% eliminated after 24 hours.
Photo: Courtesy of Duravit