Gessi Habito Collection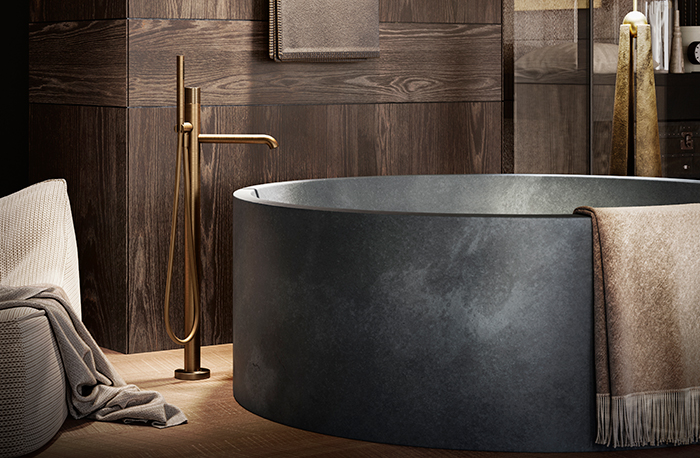 September 22, 2023
With Habito, Gessi conflates the worlds of fashion and home design into a new collection of faucet hardware for the bathroom. Inspired by the concept of "private wellness tailoring," Habito makes use of woven metal just as a tailor would use fabric for a suit, carefully fitting and shaping to create elegant silhouettes.
The three-dimensional texture of the metal invites the touch, much as one would stroke the material of a couture gown. As a brand that has always found inspiration in high fashion, Gessi uses Habito to blend its greatest muses into one spectacular line.
Woven metal has long been a stylistic signature of the Gessi motif. Through the brand's meticulous craftsmanship, the raw material is transformed into a tactile treasure used to drape and dress the most intimate of living spaces. 
The Habito Collection features five distinctive patterns, each a masterpiece of intricate detailing that mimics a classic textile, such as the elegant pinstripes of Rigato or the quilted flair of Intreccio. The dotted Cesello is a marvel of precision, while horizontal lines of Trame call to mind the weft of high-end fabric. The fine mesh of Diamantato gives the illusion of waves scattered with tiny diamonds. 
All five patterns are available in a stunning selection of finishes, with options including the warm glow of copper, brass and bronze finishes, the sophistication of black metal and chrome or the velvety appearance of matte black.
Habito is a fully developed collection with components to create a cohesive bathroom environment. Select from a wide variety of mixers for the basin, tub and shower with installment options that include mounting for the wall or ceiling. The collection features shower heads, sprayers and body jets, bidet faucets, and even accouterments, such as towel rails, robe hooks and soap holders.
Photo credit: Gessi