Kohler x SR_A Formation 01 Faucet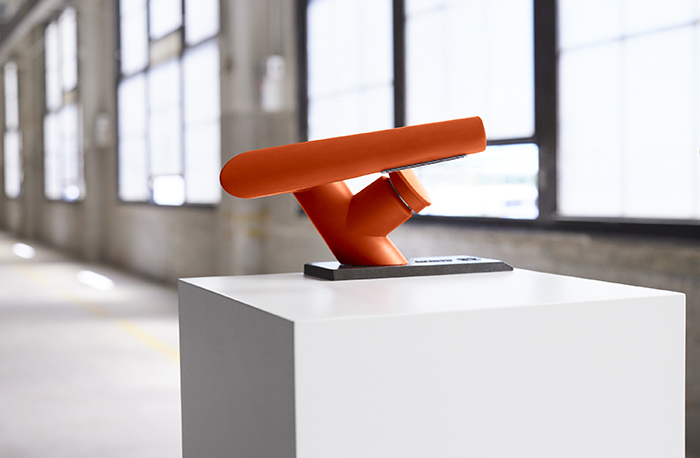 September 28, 2023
Kohler Co. and the award-winning British artist and designer Dr. Samuel Ross, along with his industrial design studio SR_A are unveiling a breakthrough, limited-edition Kohler x SR_A Formation 01 faucet at Design Miami/ 2023. The product's striking angles and industrial, bold haptic orange color defy the traditional design and performance of a bathroom faucet. 
The Kohler x SR_A collaboration embraces Ross' avant-garde artistic approach while honoring Kohler's 150-year legacy of innovation and craftsmanship in the development of a new design language for water solutions. This new limited-edition faucet challenges how we engage daily with the form and function of an everyday object by pushing the boundaries of materials, forms and colors.
Materials
Cast as a singular, sculptural object as opposed to a traditional finish plating process, Formation 01 sets new expectations for the ritual of water. The faucet is crafted from Neolast, a new material exclusive to Kohler, which allows for the dramatic expression of form, a new language of shape and the saturation of color. Mounted on an escutcheon plate crafted from Kohler's signature cast iron, Formation 01 perfectly balances the future-forward design with the timeless industrialism of molten iron.
Forms
Kohler's advanced engineering of a custom water channel allows for water delivery through the faucet's sharp angles. The fluid dynamics required by the shape and expressive angles of the faucet demand precise pressure control to enable the reinterpretation and design for how the water flow is intended to be experienced. The rocker-style handle completes the ultra-modern aesthetic of the piece.
Colors
The industrial haptic orange hue evokes the 1967 debut of Tiger Lily in Kohler's bathroom line and blends Ross's signature color with Kohler's legacy of color leadership.
Manufactured in line with SR_A's progressive study of design and practical experience, the faucet's high visibility and arresting form draws attention when installed in any space. Abstract in its nature, Formation 01 is open for interpretation to be partly determined by the user.
The Formation 01 will debut at Kohler's booth at Design Miami/ (Dec. 6-10, 2023) and will be available to purchase on sra.kohler.com in December. Ahead of the debut, visitors to the Kohler x SR_A website can experience the faucet through an augmented reality filter that allows users to place the faucet in their home space or anywhere inspiration strikes.
Kohler and SR_A plan to reveal more details of their multi-year partnership throughout 2023 and 2024, igniting inspiration through physical unveilings and brand experiences.
Photo credit: Vicki Hafenstein for Kohler Co.