Laufen Lua Collection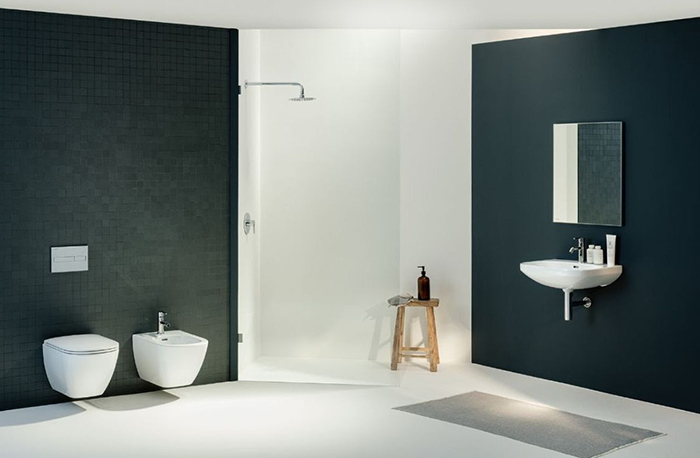 October 10, 2022
The latest launch from Laufen is Lua, a complete bathroom collection with a pared-back aesthetic that creates an elegant yet contemporary look. As with many of the brand's ranges, Lua was created in partnership with a world-renowned designer – in this case, Toan Nguyen. What sets the new collection apart, however, is that it offers aspirational bathroom style at an affordable price — you can equip an entire bathroom from the range without breaking the bank.
Lua Basins
There are no fewer than 23 basins in the collection, all of which are suitable for wall-hung or furniture-mounted installation. So, whether you're looking for a compact cloakroom basin (starting from just 360mm wide) or a double basin for a his and hers en suite, Lua offers a solution. Thoughtful details include spacious tap decks and, on the wall-hung basins, pre-drilled holes to attach a towel rail. Plus, Lua basins are available in Laufen's innovative Clean Coat (LCC) finish, which is baked on over the original glaze. This creates a pore-free, practically indestructible surface that ensures grime, limescale and bacteria are easily rinsed away by running water.
Lua WCs and Bidets
For flexible bathroom design, Lua WCs come in both standard and compact projections, and they can also be floor or wall mounted. To complete the look, matching wall-mounted and floor-standing bidets are also available. All the WCs are rimless, which means there are no nooks or crannies for bacteria to build up, resulting in easier cleaning and improved hygiene. What's more, a washdown flush is available as standard. This uses the heavy pressure of water flowing from the tank to flush out the bowl thoroughly. In addition, for easy maintenance, the seats are removable, and the ceramic is available in Laufen's Clean Coat finish.
Lua Bathtubs
No family bathroom is complete without a bath, and Lua offers a range of different options. For example, there are freestanding and back-to-wall models made of Marbond composite, which allows for elegantly thin walls that mean the baths take up less space.
There are also five drop-in acrylic baths ranging from 1600mm by 700mm to 1900mm by 900mm. Finishes for bathtubs include white, glossy white (inside) and glossy black (outside) and glossy white (inside) and matte black (outside).
Lua Brassware
Lua includes a full range of brassware, specifically designed to complement the simple design language of the basins, baths and bidets. In keeping with the rest of the collection, the brassware offers design flexibility, with a high-rise tap for the countertop basin and wall-mounted bath mixers for the freestanding baths.