Native Trails Polished Copper and Nickel Finishes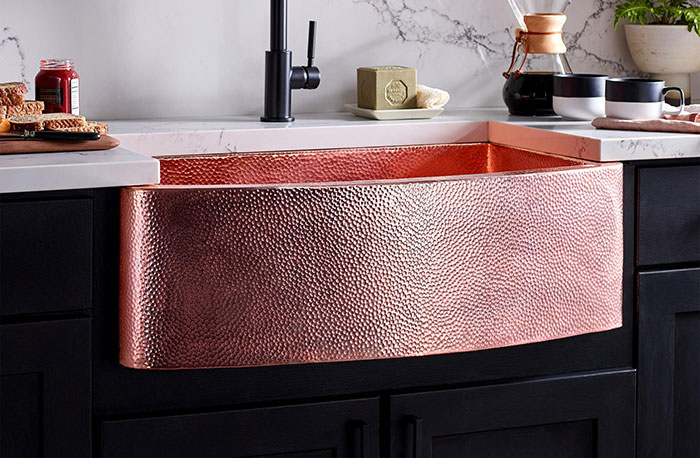 June 14, 2022
Native Trails has expanded its polished copper and polished nickel finishes to seven select sinks in the Copper Collection. Kitchen and bathroom sinks including Rhapsody, Pinnacle, Cocina 21, Farmhouse 30, Cocina 30, Tatra and Kohani will all be available in both finishes, adding to the existing antique copper and brushed nickel offerings. 
The polished nickel finish is a glistening, warm-toned silver color created through an electroless plating process, resulting in an extremely durable product. The polished copper finish is a brilliantly luxurious shade with hints of rose gold, while both finishes are hand polished for a dazzling shine. For a further layer of protection and a nearly maintenance-free sink, users can apply the brand's MetalProtect sealer to prevent tarnishing and fingerprints.
Native Trails' artisan crafted copper sinks take several days and many thousands of hammer strikes to perfect, using age-old techniques passed down through generations. Skilled coppersmiths from Mexico start by melting 100% recycled copper scraps that are then pressed into sheets and formed into shape. After a strategic heating and cooling process, a smooth-faced planishing hammer is used to harden the copper, giving each sink a beautiful polish and sheen. Once the hammering is completed and the desired shape and texture is achieved, each piece goes through a final process to create one of Native Trails' five copper finishes. The end result is a one-of-a-kind functional work of art that embodies the unique style and skilled technique of the artisan who created it.