Serdaneli Hémisphère Collection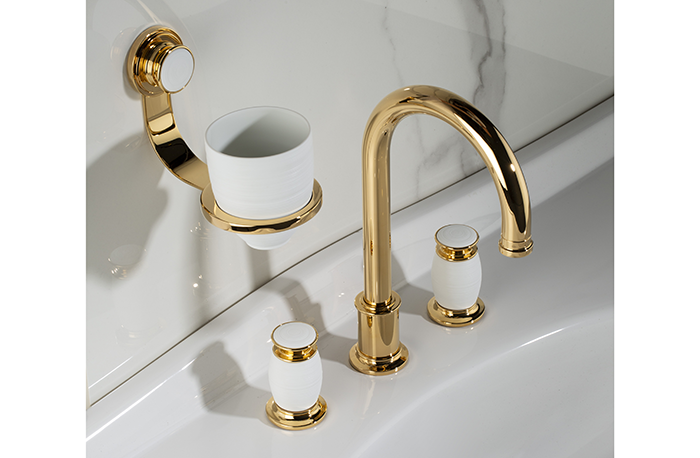 April 5, 2022
Serdaneli has teamed up with J.L Coquet to release the Hémisphère Collection, a new line of faucets with Limoges porcelain handles. Inspired by the iconic Hémisphère model, originally designed in 1998 by Sylvie Coquet, daughter of J.L Coquet, the collection features finely engraved porcelain striations adorned with white satiny enamel. The new collection comes in a complete range of fittings, including faucets for the bath, shower, WC/ bidet and basin, plus wall-mounted accessories that include towel holders, glass holders, toilet roll holders and robe hooks.
In typical "haute couture" fashion, Serdaneli has been making bespoke faucets and hardware, drawing on France's finest craftsmanship since 1975. Using fine stones, mother-of-pearl, crystal, marble, porcelain and other materials, Serdaneli shapes its collections around the range of possibilities afforded by its materials library, built up with the invaluable help of some of the foremost experts in their craft. 
Since 1824, J.L Coquet has been making tableware porcelain. Indeed, its hallmark is a whiteness now acknowledged as one of the whitest and finest anywhere in the world. J.L Coquet holds the Porcelaine de Limoges protected geographical indications status, as it makes all of its products in Saint-Leìonard-de-Noblat, near Limoges, France.
The new series is offered in 27 metal finishes, which include polished chrome, matte chrome, polished nickel, matte nickel, polished gold and matte soft gold. The Hémisphère Collection is completed with matching free-standing items by Cristal&Bronze, a part of the Maitres Robinetiers de France, which also includes Serdaneli, Margot and Miroir Brot.