American Standard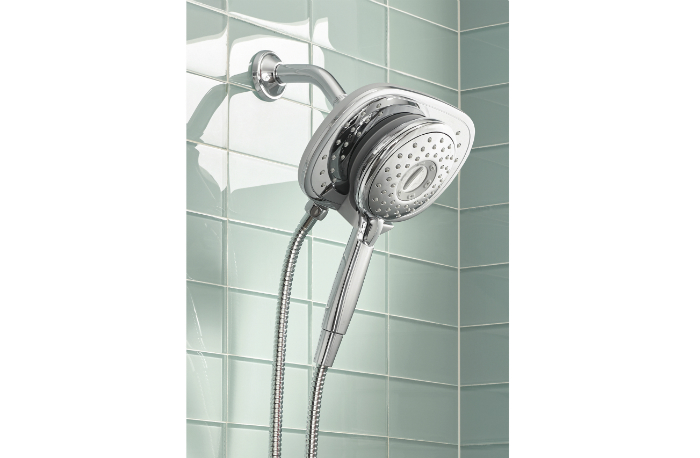 December 22, 2017
The new Spectra+ collection from American Standard offers a comprehensive range of products that allow homeowners to customize their shower space. Ranging from convenient hand showers to fixed showerheads, the Spectra+ collection empowers the user with flexible choices to suit individualized preferences for all ages and mobility levels in the home.
The Spectra+Touch showerhead changes spray patterns with a simple touch on the outside ring of the showerhead, making it easy to customize the shower experience, even with wet hands. This pioneering showerhead delivers a luxurious experience with an oversized, multi-function 7-in. showerhead that offers a choice of four spray patterns.
The Spectra+ eTouch showerhead includes a remote control to mount on any shower surface, providing a stylish, ergonomically designed solution for users who have difficulty reaching the showerhead due to age, height or mobility restrictions. The Spectra+ eTouch offers users the option of using the showerhead or the remote to enjoy convenient, one-touch operation for change in spray patterns. Both the showerhead and remote are powered by easily accessible batteries in the units.
The Spectra+ Duo model combines a 9 ½-in. fixed showerhead and 5-in. multi-function hand shower all in one sleek fixture. Designed to deliver a drenching experience through a generous width of water coverage across the user's body, this functional design allows homeowners to enjoy two convenient showering options without breaking any wall tile for remodeling.
The DivertPaddle, conveniently located on the front of the fixed shower head unit, makes it simple to switch from the combined spray to hand shower only. The Spectra+ Duo's Dock-Tite feature incorporates a strong magnet to easily and securely dock the hand shower to the showerhead.
Created to provide a comprehensive selection of showerheads and hand shower options, the Spectra+ collection offers three additional high-performance showering products:
The convenient Spectra+ Handheld hand shower offers users a choice of four spray settings. Design-matched slide bar and arm bracket kits are available.
The Spectra+ Rain showerhead delivers a broad, single-function drenching spray with its 11-in. diameter design, providing full-body coverage.
The Spectra+ Fixed 7-in. multi-function showerhead offers a choice of four luxurious spray patterns that are easy to change with the AquaToggle tab located conveniently on the rim.
All multifunction Spectra+ showerheads and hand showers feature four customized spray styles from five luxurious choices, depending on model: Drench, Sensitive, Jet, Massage and PowerWash. They are offered in a standard 2.5 gallons per minute (gpm) model or a WaterSense-certified 1.8 gpm option and feature easy-to-clean spray nozzles to reduce maintenance.
The Spectra+ collection is available in a choice of four finishes: polished chrome, polished nickel, legacy bronze and brushed nickel.
Find more shower solutions here.