Americh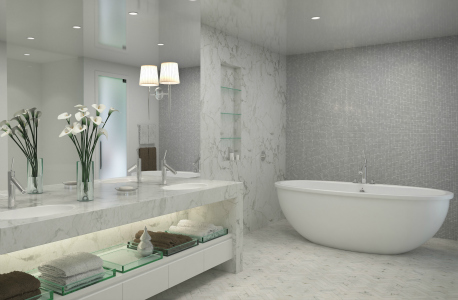 January 14, 2016
Americh's Brandon is an oval-shaped freestanding tub that rises from the floor with slightly curved lines before meeting with the surrounding top deck. It is constructed from the finest acrylic materials and is available in all of Americh's standard colors (almond, biscuit, black, bone. ice gray, linen, sterling silver and white). As an added design feature, this tub can be ordered with a dual color apron and deck.
The Brandon's faucet can be deck mounted or floor mounted and its two-piece construction allows for easy access and installation. The tub includes integral waste and overflow in polished chrome trim or it can be ordered with polished brass, polished nickel, satin nickel or oil-rubbed bronze trim at no additional charge. There is an optional 13-in. pillow for added soaking comfort, grab bars and a linear overflow. The tub measurements are 67 in. by 36 in. by 23 in., and it has a capacity of 63 gallons when filled to the overflow.
Like all of Americh's tubs, the Brandon is crafted and hand finished by artisans in the United States.