Duravit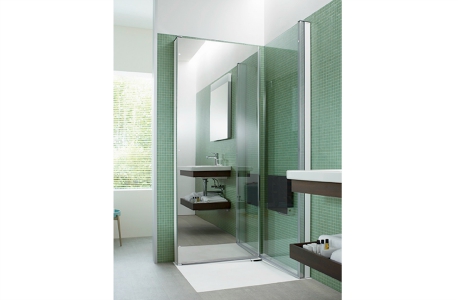 September 23, 2015
First introduced in 2012, Duravit's OpenSpace foldable shower offered a shower enclosure that was able to fold flush to the wall to create newly usable space. Duravit is now revisiting OpenSpace with the launch of OpenSpace B, a version expanded to include new sizes to encourage greater diversity in layout planning, along with an appropriate new price point.
With the new model, four dimensions — 35 in. by 35 in., 39 in. by 39 in., 35 in. by 31 in. and 39 in. by 35 in. — open up a wide range of possibilities in layout planning. OpenSpace B can be combined with any Duravit shower tray or placed directly on the tiled floor. 
With the same distinctive look as the original, the optional mirrored door conceals the tap fittings and shower attachments, establishing a clean look while making the room appear larger. The second shower door is made of clear glass. A lifting and lowering mechanism is incorporated into the door profile, ensuring that both doors stop automatically in the shower position and rest directly on the shower tray or floor.
OpenSpace B's components are pre-fabricated, allowing for simple installation, even for the uneven walls found in older buildings. Additionally, minor engineering modifications have allowed Duravit to lower the price of OpenSpace B.