Gessi SHOWER G Collection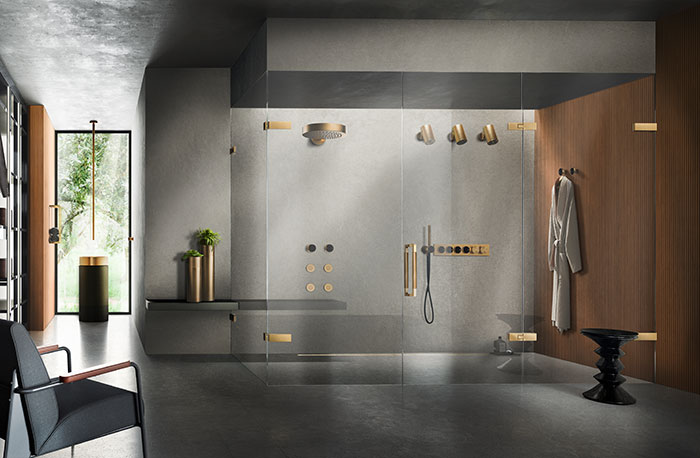 November 14, 2023
Gessi embraces the philosophy of finding beauty in overlooked places with its newly released SHOWER G Collection of hardware and accessories for the bathroom. Instead of attempting to conceal or obscure the functional components of shower enclosures, Gessi has chosen to celebrate them, to make them enviable accessories that elevate the design space. Just as the right jewelry complements a well-tailored suit, the SHOWER G line is an intuitive addition to any luxury-minded bathroom, adding the perfect finishing touch to an intimate living environment where personal wellness is prized.
SHOWER G is a singular design achievement, reflective of Gessi's commitment to both aesthetics and functionality. Woven metal is used throughout the collection to embellish different elements like hinges and clamps, which can be ordered in bespoke, made-to-measure sizes. Accessories like handles and towel holders coordinate with each other by virtue of their linear shapes and offer visual contrasts with their round and square silhouettes. The collection also offers linear drains and flush plates to complete the look. 
Gessi offers the collection in a selection of finishes, including in-demand favorites such as aged bronze, copper, antique brass and brushed black metal.
This collection is a true showcase for Gessi's expertise in engineering and metalworking. All elements and mechanical operations have been internally developed via a complex design process. The opening systems for custom shower enclosures provide fixed and hinged options, while different types of hinges and clamps make the installation of glass shower cabins easier and safer. Gessi supports the collection with a full line of complements and technical accessories for all types of openings and configuration designs.
Photo credit: Gessi