Kohler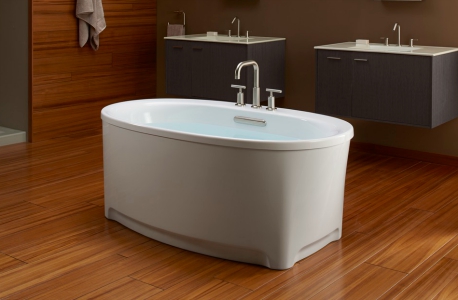 August 28, 2015
Kohler has expanded its array of freestanding and hydrotherapy options with the introduction of the Underscore oval freestanding and drop-in baths. 
The Underscore freestanding bath was inspired by the footed baths that Kohler first introduced more than a hundred years ago. The illusion of a foot in an acrylic shroud allows for a design that reads both classic and modern. The Underscore oval bath utilizes the same simple geometric language of the rectilinear Underscore bath and translates it both to an oval drop-in and a freestanding bath. 
The new bath is available as a soaking bath as well as with a variety of hydrotherapy experiences including VibrAcoustic technology, which combines sound vibration with music for a deeply relaxing experience; ProFlex BubbleMassage that envelopes bathers in relaxing bubbles; Bask heated surface that heats the bath surface in three regions– neck, shoulders and back; chromatherapy lights and whirlpool for a hydro-massage experience, as well as combination hydrotherapies.