Krownlab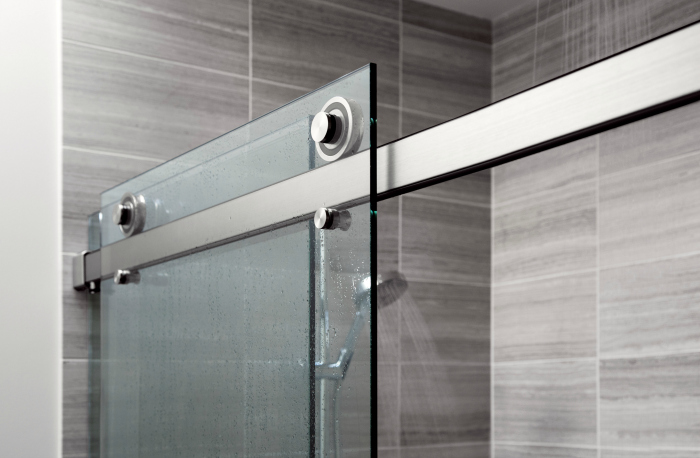 April 4, 2017
Architectural hardware designer and manufacturer Krownlab debuts Rorik, its first-ever sliding shower door system. Developed for (but not limited to) heavy-use projects, the Rorik system offers tremendous configurability to fit most shower designs. It is compatible with a wide range of shower door sizes, including panels up to ½ in. thick for a solid, premium feel, or more traditional ⅜ in. thick panels. As it accommodates openings up to six feet wide, Rorik can be set to exactly the right width for a space. Compatible with tile or concrete shower pans, Rorik is available in alcove or—coming soon—glass corner configurations.
Available in brushed or black stainless finishes, the Rorik sliding door shower system adapts its patented sliding door hardware system to feature an all stainless steel bearing as a wheel. The hardware rolls on a track that appears to float along the fixed glass panel thanks to concealed fasteners. The wall attachment point also is hidden in a specially engineered wall socket that completes the modern, minimal aesthetic of the system.
Find more cutting-edge products for the bathroom here.