Bertazzoni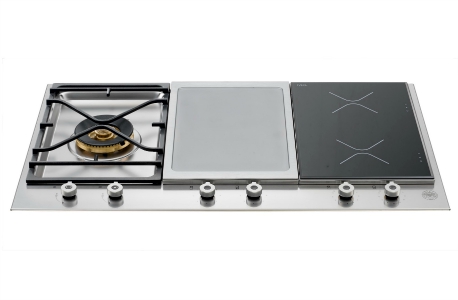 August 18, 2015
Bertazzoni, manufacturer of cooking appliances, has launched its new induction range and cooktop line in the North American market. The line includes a new Professional Series 30-in. Induction Range available in stainless steel and a total of six colors, a new Master Series 30-in. Induction Range and two touch control Induction built-in cooktops. 
Bertazzoni Professional and Master Series Induction Ranges are available in 10 new SKUs, these new 30-in. ranges feature two product tiers – manual and self-clean – both offering four induction cooking zones and nine different cooking functions. Both the Professional and Master Series Induction Ranges are available in stainless steel, and the Professional Series self-clean model is also available in Bertazzoni's range of six colors inspired by the foods of the Emilia-Romagna region where Bertazzoni manufactures all of its products. 
Bertazzoni Design Series Induction Cooktops come in 30-in. and 36-in. models. This Bertazzoni touch-control induction cooktop provides a fast and energy-efficient way of cooking. Thanks to an innovative booster function, the full energy becomes available instantaneously and is delivered directly to the cookware, thus eliminating inconvenient heat-up time. This Bertazzoni Design Series cooktop features four individually controlled induction heating zones and a beveled black glass ceramic main top. These new cooktops complete the company's popular dual-fuel induction cooktops. 
The built-in Bertazzoni Professional Series Speed Oven combines a convection oven, microwave oven and broiler into one appliance to ensure cooking precision while reducing cooking time up to 50 percent without any comprises in aroma, flavors and taste. Adhering to Bertazzoni's commitment to green practices, the new Speed Oven requires no preheating time, resulting in substantial energy savings and reduced cooking time. 
Induction cooking achieves up to 90 percent energy efficiency, compared to conventional electricity fueled ranges, which achieve merely 40 percent efficiency. All new Bertazzoni induction ranges, induction cooktops and the speed oven are available now.