Bosch Benchmark Series Dishwashers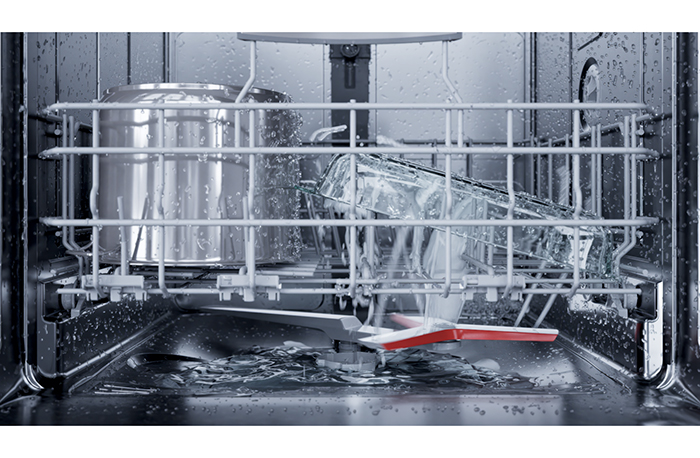 August 1, 2023
New to the line in 2023, Bosch Benchmark Series Dishwashers are equipped with the PowerControl spray arm, a brand-new innovation designed to elevate consumer's dishwashing and give them the ultimate clean. The new addition of the PowerControl spray arm delivers a 30% better cleaning performance above Bosch's already strong PrecisionWash system. The 800 and Benchmark Series also feature CrystalDry and Home Connect to help enhance the dishwashing experience for a seamless and powerful clean. Additionally, consumers can expect new modern designs complete with fingertip resistant stainless steel and sleeker and intuitive touch control panels across the full lineup.
Newly launched in 2023, the PowerControl spray arm is available in Bosch 800 and Benchmark Series Dishwashers, a new innovation designed to elevate consumer's dishwashing and give them the ultimate clean. This new system offers further control over the level of clean dishes receive and helps tackle those challenging dishes like casseroles, pots and more. Hydraulic and motor driven, this powerful spray arm provides a targeted intensive wash from anywhere in the bottom rack – no matter how the dishwasher is loaded. 
This feature does not use more water than the company's normal spray arm. Instead, it uses the existing water more effectively to deliver a powerful clean where you need it. Explore basic settings on the control panel or further customize the wash via the Home Connect app. App users can customize the wash level of the arm, meaning different target areas can receive more attention, resulting in more precise dishwashing control.

The powerful patented CrystalDry drying technology delivers exceptional drying performance after the final step of the drying cycle to reduce the need for towel or air drying – because that's one less thing you need to worry about in the kitchen. CrystalDry ensures dishes are as perfectly dry as they are clean, and Bosch is proud to offer this patented drying technology for 60 percent better drying results, even on hard-to-dry items like plastics.
Home Connect allows consumers to keep tabs on their dishwasher and monitor their appliance from almost anywhere via smart device for greater convenience. Consumers can access Smart Cycle which provides intelligent cycle guidance for the best results every time. Providing the ultimate peace of mind, the dishwasher also knows to alert you in the unlikely event that a leak occurs. If a leak does occur, a notification will be sent to your smart device while AquaStop automatically shuts down operation of the dishwasher and pumps the water out. A Home Connect partnership with the Amazon Alexa app allows for quick, smart reordering of detergent tabs when the dishwasher cycle count detects you are running low.