Caliber Appliances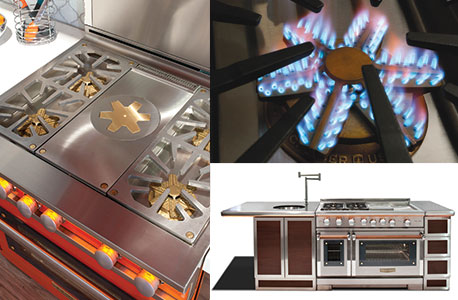 April 13, 2016
Caliber Appliances has introduced its new line of Indoor Professional Ranges and Rangetops. The estate-scaled line of 36-and 48-in. all-gas ranges and rangetops has been designed in collaboration with some of the country's top architects and designers. 
The Caliber Pro Range series is completely customizable in color and trim finishes, and anchoring the cooking platform surface of the range is a patent-pending, 23,000 BTU "CR6" open-top burner capable of producing a broad range of heat settings – from fast searing and boiling temperatures on high, to chocolate melting on the Insta-Low setting. 
The CR6 burner is cast from solid brass and boasts a lifetime warranty. Other surface cooking options include even-heating, solid stainless steel griddles, 23,000 BTU French tops and Caliber's Crossflame Pro grilling section.
Each range is outfitted with a chef-sized oven that provides even baking results with Tri-flow convection technology and efficient flue design. The ranges also feature a sealed, infrared broil burner that produces searing temperatures while routing excess heat from the oven cavity to avoid baking instead of broiling.