Dometic DrawBar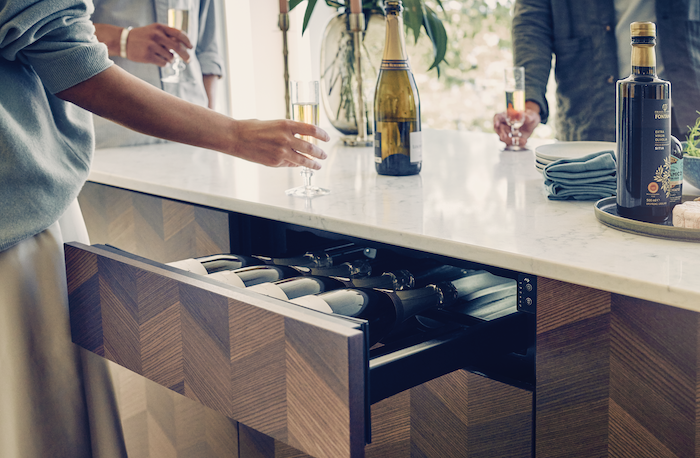 April 4, 2022
Offering the functionality of a full-size wine cooler in an elegant and ergonomic compact drawer design, the Dometic DrawBar is easily installed in kitchen and auxiliary spaces in the home. DrawBar fits five wine bottles and features a user-friendly control panel that offers  five preset temperatures for optimal cooling and storing of red, white and sparkling wines. This solution can be installed singularly or in multiples and is designed to integrate with standard 24" wide cabinetry. For enhanced personalization, this smart Dometic DrawBar can be faced with glass or custom paneling.
Dometic's refrigeration expertise extends back a century to 1922 when two Swedish engineers invented the absorption cooling technology – even attracting the attention of Albert Einstein in the patenting process. Leveraging the company's refined, innovative and technology-driven refrigeration expertise, the new collection of wine coolers and cabinets lead in engineering and design
"We are thrilled to bring our legacy refrigeration technology to homes across the North American market for a myriad of applications with this comprehensive collection of wine cooling solutions," says Juan Vargues, president and CEO of Dometic. "Easily elevating any interiors, hosts and guests can enjoy a crisp glass of wine."
Dometic is a global market leader in the mobile living industry. Millions of people around the world use Dometic products in outdoor, residential, and professional applications. The company's motivation is to create smart, sustainable, and reliable products with aspirational design for an outdoor and mobile lifestyle in the areas of food and beverage, climate, power and control, and other applications. Dometic employs approximately 9,000 people worldwide, had net sales of SEK 21.5 billion (USD 2.5 billion) in 2021 and is headquartered in Stockholm, Sweden.