Falmec Alba Kitchen Ventilation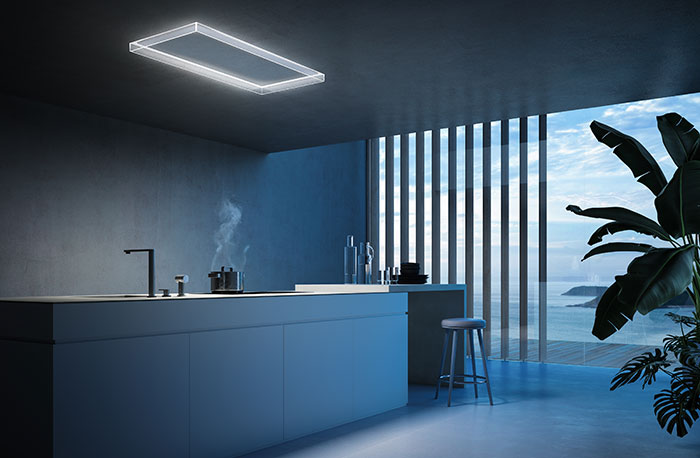 August 19, 2023
Falmec has launched the Alba kitchen ventilation system in the North American market. Building on the success of the European launch, the unit merges contemporary design and ventilation innovation to create the perfect combination of function and form for the modern-day kitchen. Alba features a minimalistic design that is so discreet that it's hard to believe it is ventilation with such power and performance.
A clear-cut perimeter encases this alluring design, where precision and artistry meet. The installation's seamless integration with the ceiling invokes a flawless visual flow, creating an ambience unachievable with a standard ventilation hood.
The functional core is hidden within a customizable painted panel which acts as a false ceiling plate. When in operation, whether manually or via remote control operation (providing four different speed settings), the system becomes backlit with LED lighting, ensuring the countertop space below is fully illuminated for optimum visibility.
Offering extreme functionality, Alba efficiently extracts moisture from the cooking area via perimetral extraction using different motors. It offers flexibility in its design with the option for a recirculating system using Falmec's Carbon.Zeo ceiling filtering kit and the choice to paint the white panel to match the existing home aesthetic. Easy to clean, the unit's metallic grease filter is removable and washable for ultimate kitchen convenience.
Part of Falmec's Design Collection, Alba was created with design enthusiasts in mind. The Collection harnesses partnerships with established and emerging designers to achieve ingenious systems paired with ultimate performance. Extensive research, the use of the highest quality materials and innovative technologies results in a distinctive ventilation category that marries form and function.