Jenn-Air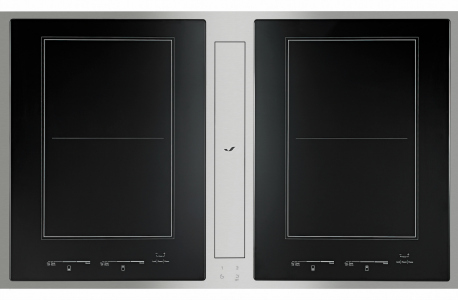 June 10, 2016
Appliance maker Jenn-Air combine its downdraft expertise with induction cooking technology to introduce its first induction downdraft cooktop. Scheduled for availability this summer, the new 36-in. cooktop provides the responsiveness of induction cooking with Jenn-Air brand's downdraft ventilation technology. 
Featuring an exhaust capacity rating of 350 CFM in a ducted configuration, the downdraft blower is designed with centrifugal fan technology to both quickly and quietly ventilate cooking vapors. Those who are unable or prefer not to run ductwork or vent smoke outside can opt for the brand's duct-free option that uses a filtration system to capture smoke and steam. With two flexible induction cooking areas, each providing 3,700 watts, the cooktop can accommodate up to six pots at once. Intuitive, sensor-driven pan detection technology ensures an element will only activate when appropriately sized cookware is placed upon it. 
The cooktop's jet-black ceramic glass surface easily wipes clean and features tap touch controls that respond to light pressure for controlling both downdraft ventilation and cooking elements. LED lighting and a solid glass diffuser illuminate the downdraft vent, providing a visual cue that cooking vapors are being captured.