Prisma Cooking Suite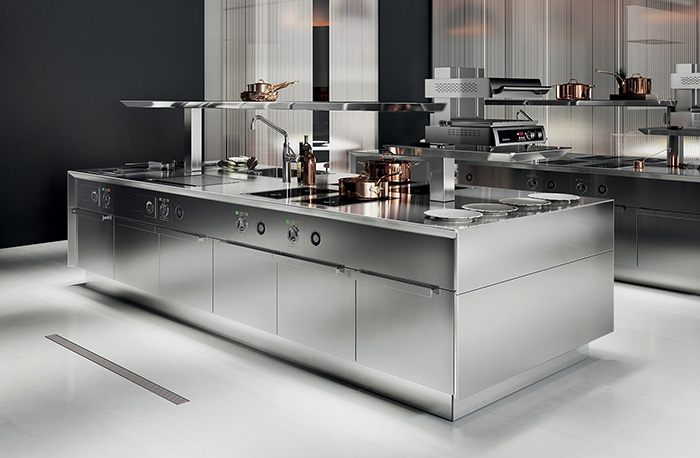 November 9, 2023
The Prisma Cooking Suite, designed by Franco Driusso, is made of a solid self-supporting AISI 304 stainless steel structure that is framed, in a flow with the sides, by a reinforced top just 5.5mm thick, folded like a sheet in a 50mm edge. The handles on the dashboard, as well as the cooking equipment, are flush mounted with the structure to limit the accumulation of dirt and make cleaning operations easier. For the same reason, all the compartments — open or with hinged doors — are rounded on the inside and free of corners. A bridging superstructure welded to the kitchen and with a grilled top completes the aesthetics of the suite, providing support and storage space for useful equipment.
Induction, fryer, cooking pan, smooth or ribbed fry top, Bain Marie, pasta cooker and hood — all the best technologies for professional catering can be custom-integrated into Prisma designs. Finally, at the chef's discretion, the compartments can accommodate refrigerated bases, hot holding cabinets or warming compartments to warm dishes.
Through this project, Prisma has reinvented a product while maximizing its performance and hygiene. For this reason the Cooking Suite was selected to become part of the ADI Index 2023 and compete for the next Compasso D'Oro.
Photo credit: Prisma