Thermador Pro Harmony Liberty Induction Range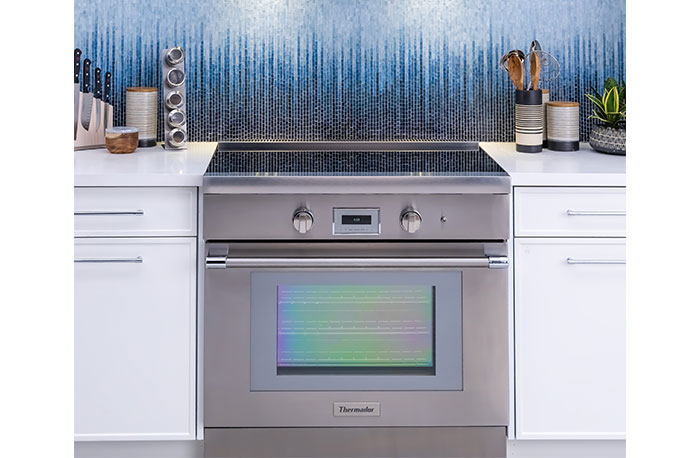 August 22, 2023
Thermador is taking induction cooking to the next level with the launch of the Pro Harmony Liberty Induction Range, combining new Thermador-exclusive induction features with the power and performance of a convection oven. As the latest addition to the Thermador Induction Innovation Collection, the new range puts induction in motion with features like MoveMode and HeatShift for a more dynamic and intuitive cooking experience.
Building on its brand legacy in the kitchen, with the Pro Harmony Liberty Induction Range, Thermador features patented, state-of-the-art induction technology that brings mobility to the cooking process, provides flexible cooking and superior performance, along with a fully connected experience with Home Connect. Induction cooking offers precise temperature control, more power and time-saving benefits for busy households.
Available in 30- and 36-in. models, the new Induction Range – equipped with large flexible cooking zones – offers complete control over every culinary endeavor, with key features including:
Top: Liberty Induction Cooktop
• Flexible Cooking Zones for flexibility in motion: Extra-large cooking zones offer versatility and accommodate multiple pots and pans, as well as teppanyaki grills up to 16 inches long.
• HeatShift for power control on the move: A feature that divides the cooktop into three preset heat zones, allowing users to change power levels by simply moving cookware without having to adjust the controls. It is perfect for going from sauté to simmer.
• MoveMode for effortless transfer setting: Transfer cooking settings from one zone to another by simply moving the pot or pan across the cooktop. This setting is great for cooking multiple dishes at the same time.
• PowerBoost for a quicker heat time: Save time heating up pots and boil water quicker with this feature that increases element power by up to 50%.
• CookSmart for fast and accurate heating: Heat cookware to one of five presets and automatically maintain the selected temperature to achieve consistent results for even the most complex recipes.
• Full Access Telescopic Racks for easy grip and access: Support heavy dishes inside the range with up to three racks that expand completely for easier access.
Bottom: Pro Harmony Oven
• Large Oven Capacity to accommodate large meals effortlessly: The oven is equipped with up to 4.9 cubic feet capacity on the 36-in. model and 4.4 cubic feet capacity on the 30-in. model.
• Full Access Telescopic Racks to support heavy dishes with up to three telescopic racks that
expand completely for easier access: The 30-in. model includes one telescopic rack (in addition to two standard racks), and the 36-in. model includes three telescopic racks.
• Third Element Convection for precise airflow: The convection technology allows for cooking on multiple levels. 
Thermador developed the Pro Harmony Liberty Induction Range to fit into any kitchen. Built with a side-to-side frameless black glass design, it offers a sleek, smooth surface for greater lexibility when cooking that also makes cleaning fast and simple.