ZLINE Professional Gas Ranges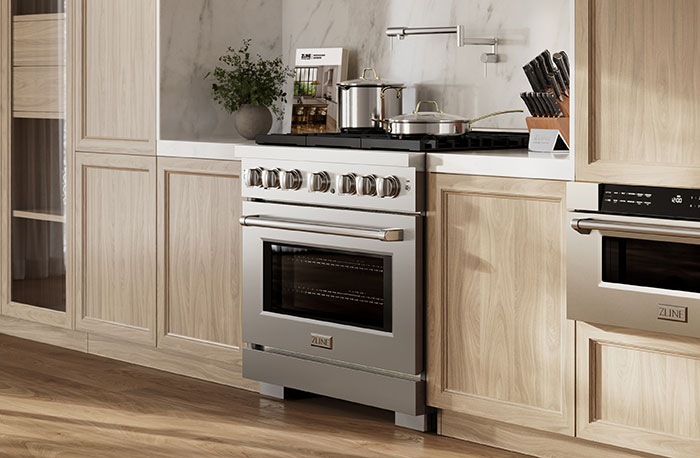 November 14, 2023
ZLINE has unveiled a new line of Professional Gas Ranges (SGR). Meticulously designed from the ground up with an emphasis on style and reliability, the new ranges feature a traditional, timeless design that exudes luxury and elevates the culinary experience at home.
Two models are available to start — a 30-in., 4.2-cu.-ft. Four-Burner Gas Range with Convection Gas Oven (SGR30) and a 36-in., 5.2-cu.-ft. Six-Burner Gas Range with Convection Gas Oven (SGR36), both available in a 430-grade stainless steel finish.
Each range features a cooktop with Italian-made gas burners with a newly added auto-reignition feature that easily ignites and automatically reignites for improved temperature control and safety. The professional style burners offer up to 15,000 BTUs of cooking power, giving users the flexibility to reach lower temperatures to simmer or higher temperatures to sear and sauté.
The 36-in. model also features a dual function brass burner that allows users cooking power as low as 1,000 BTUs up to a powerful 20,000 BTUs to dial in the perfect temperature for any dish. Not only do the burners feature superior heat control and offer a premium cooking experience, they also come with an industry-first lifetime warranty.
Additional features in the new SGR line include:
Large Oven Interiors — Provide extra space for dishes and an overall quieter experience during longer cooks and bakes.

StayPut Oven Door Hinges — Designed to support the full weight of the oven door, the hinges offer additional convenience and safety when inserting or removing items from the oven.

Smooth Glide Ball-Bearing Oven Racks — Durable ball-bearing oven racks provide extra convenience and ease when working with larger dishes.

Stainless Steel Oven Burners — Tubular bake and broil burners are designed for optimal gas combustion that allows for even heat distribution.

Premium Oven Insulation — Three-layered glass and an aluminum mesh seal offer superior heat retention and a consistent temperature, creating perfectly cooked dishes every time.

Dual Oven Lights — Dual halogen lighting, controlled by a switch conveniently located on the front control panel, illuminates the oven's interior so users can check on food without sacrificing oven temperatures.

Minimal Cleaning — The hand-finished porcelain one-piece cooktop allows for easy cleaning and maintenance so users can worry less about clean-up and focus on their delicious meal.

LP Conversion Kit — Comes equipped with a conversion kit to convert from natural gas to liquid propane (must be done by a professional), offering versatility with cooking preference.

Manufacturer Warranty — One-year parts and service warranty.
These gas ranges are also ETL-listed and have been rigorously tested for quality and safety to reflect the highest standard in luxury appliances. ZLINE has plans to expand the line in the future with additional sizes and finishes to cater to even more homeowners.
Photo credit: ZLINE