MGS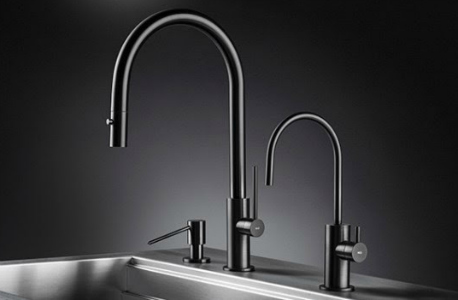 January 25, 2016
MGS presents kitchen faucet designs now available in Black Steel – a matte black refined industrial black PVD finish. Black Steel creates an edgy, yet sophisticated aesthetic.
Black Steel options from MGS include the Spin D and Spin FW faucets. Slender, minimalist and understated, the Spin D faucet has a spout that rotates 360 degrees to work in a variety of applications. Its base features a narrow handle equipped with an easy-to-operate water lever on the right, with hot water accessed by pushing it back and cold water by pulling it forward. For the hot setting, the lever only goes back 17 degrees, allowing it to install in tight configurations. The Spin FW filtered water faucet offers a contemporary design suitable for bar/prep sinks. Its base measures approximately 2 in. in diameter with a subdued control valve bearing the MGS logo. Both designs are also available in Onyx stainless steel PVD and brushed or polished stainless steel.
To achieve a black finish, MGS uses a resistant PVD finish that combines with the texture of the solid brushed stainless steel to create variation and a smooth finish. Through PVD, a process used to finish fine jewelry and watches, as well as in aerospace, military and high tech industries, the color penetrates the metal by molecular bonding, resulting in a durable matte black finish. PVD is more environmentally friendly than traditional coating processes. There are no hazardous by-products, resulting in a durable, anti-corrosive finish. Using the PVD process also ensures that protective topcoats are not necessary and that the finish is resistant to abrasion. Solid stainless steel also offers the benefits of being non-corrosive, non-toxic and non-porous – with the added benefit of easy cleaning without using harsh chemicals.