Watermark Designs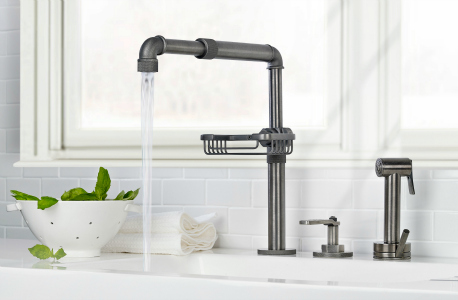 January 7, 2016
Watermark Designs has been awarded a U.S. Patent and Trademark for the "telescopic and swivelable non-leaking plumbing fixture." While the patent was granted for the company's first application, the Elan Vital kitchen faucet, the invention is applicable to various types of plumbing fixtures including pot fillers and shower fixtures.
Conventional plumbing fixtures typically do not allow the user to adjust the size of the fixture. However, Watermark Designs' Elan Vital kitchen faucet with its telescopic spout extends or retracts as needed. The deck-mounted lever controls volume and temperature using a hydro-progressive valve. The brass wire basket is optional, as is the independent side spray (which has an intricate knurled base and also uses a hydro-progressive valve). The faucet is available in any of Watermark Designs' 40 finishes.
The engineers at Watermark Designs collaborated for months, experimenting with different mechanisms until after numerous iterations, they designed the one that performed perfectly. The telescopic spout moves seamlessly without scratching the finish and is easily secured and balanced, so no matter the length, the faucet is steady.