Arborite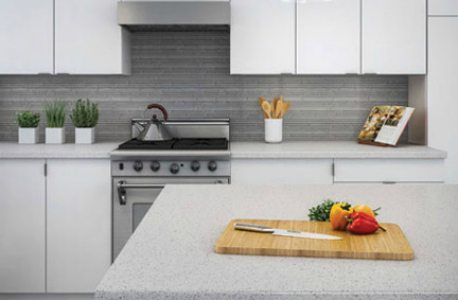 March 11, 2016
Taking inspiration from small-scale stones, Arborite's new Welcome Home series presents 31 surfacing options especially apt for kitchen applications. A neutral palette infused with intricate veining, the collection presents realistic replicas of natural designs as part of the larger Maison collection, which currently features exclusively stone looks. Inclusive of engineered stone and quartz looks, granites and sandstone, the line of high-pressure laminates showcases the natural beauty and character of stone, while allowing for effortless maintenance. Welcome Home accompanies Arborite's grander-scaled Panorama series in the residential Maison collection. 
Highlights from the series include:
Arctic Ice: the Arctic pattern gives the illusion of an engineered stone, creating a neutral backdrop that provides subtle, visual interest.
Jaipur Amber: The robust hue of Jaipur Amber adds instant warmth with the slate-inspired look. 
Klondike Riverbed: Playful texture and a cool palette create the look of a classic quartz.
Sahara Nights: This pattern is rich in color and delicate in details.
Tundra Taupe Granite: Mimicking the crisp coloration of granite stone, Tundra Taupe Granite offers a sleek look.