Walker Zanger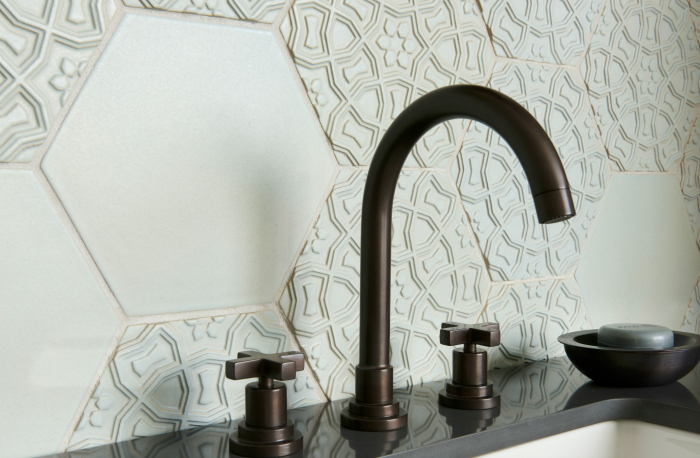 June 14, 2017
The intricate and interwoven lines of traditional Moorish architecture and Old Spanish ornamentation are sources of inspiration for Walker Zanger's Andalucia collection. The hand-finished terra cotta tiles reimagine these motifs and patterns on a larger scale for a fresh and timeless aesthetic. Andalucia is made of authentic terra cotta and hand pressed by local artisans at the company's facility in San Miguel de Allende, Mexico, which is historically and culturally rooted in the tradition of tile making.
Andalucia reflects the unique blend of Moorish and European designs found in Seville, Cordoba and Granada, revealing both their ancient influences and modern sensibilities. The two large-format hexagon tiles, Marrakesh and Fez, are each named after Moroccan cities and feature patterns that create a variety of geometric interactions. Additionally, the 10-by-10-in. design Puerta (Spanish for door) is directly inspired by an intricately detailed door near Walker Zanger's San Miguel de Allende factory. The San Miguel design finds inspiration in the Mexican city's famed baroque Spanish architecture with its layered geometry of a hexagon on a diamond.
Each Andalucia tile emphasizes intricate reliefs and patterns layered over one another to create an elaborate design with a modern aesthetic. The cool color palette mirrors Moorish motifs, including shades of white and numerous subtle blues, all in a sophisticated antique patina.