Wolf-Gordon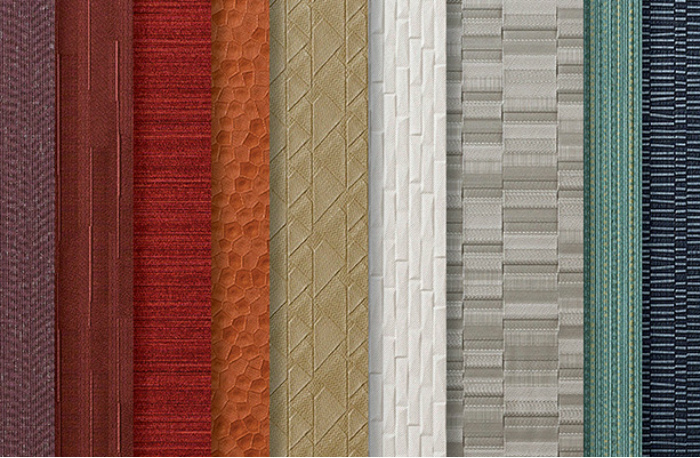 December 18, 2017
Wolf-Gordon's Contract Wallcovering 03 collection introduces a variety of geometric, heavy-embossed designs intermixed with luxe woven looks. Consisting of 15 Type II wallcoverings, the collection's bolder motifs juxtapose deep and micro-embossing to create a distinct dimensional quality, while the fabric-inspired offerings elegantly illuminate walls.
The geometric designs in Contract 03 have a deep emboss that creates a strong visual impact. Details include tonal variations and modern metallic inks to complement the textural play. A range of industrial, metal, and mineral tones along with a few bold accent colors were used for the more structural patterns. Among the fabric portrayals, refreshing pale blue hues and variations on orange are included along with nuanced gray and beige colorways.
Pattern Highlights:
Avery: Fine details are "etched" into this kinetic pattern and change when viewed from different angles, an effect enhanced by metallic inks.The deep embossing is composed of vertical bands and lines with various linear textures.
Bode: The heavy-embossed Bode bears resemblance to hammered metal with fine, multi-directional lines that reflect and refract light like those of a gemstone.
Connelly: A multi-layered pattern that combines a basic woven embossing with an irregular tweed-textured print, Connelly is a handsome design evocative of suiting fabric with the added dimension of glossy vertical striping.
Lumen: Short horizontal deep-embossed lines resemble stacked books, while metallic and pearlescent inks bring vitality to the geometric design.
Milone: The sophistication and allure of pleated organza fabric is captured in the embossing of this chic wallcovering that is well suited to contemporary interiors.
Neso: To achieve the dynamic effect seen in this new wallcovering design, vinyl was embossed with a pattern reminiscent of metal bricks, and an additional fine mesh texture with beautiful metallic inks was added to reflect light.
Niobe: The characteristic color and texture variations indicative of natural silk are emulated in this exquisite pattern.
Ronan: A sleek, industrial look brings to mind stainless steel link watch bracelets. Deep embossing is etched with fine lines in several directions to reflect stunning lighting effects.
These new designs offer Class A fire ratings as per ASTM E84 (Adhered) and compliance with NFPA 286, exclusion of the phthalates and solvents that are deemed hazardous by the Living Building Challenge Red List, low emissions compliant with Cal 01350 and 100 percent Cotton Osnaburg backings.
Find more wallcoverings here.