Cali Bamboo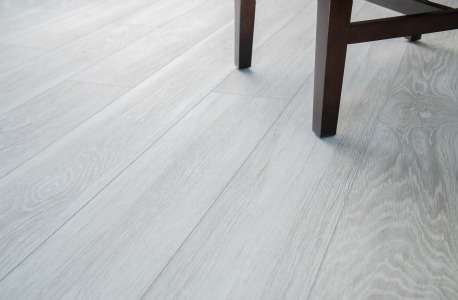 November 9, 2015
GreenClaimed, a green building materials brand created by Cali Bamboo, has introduced its new line of Inspired Wide+ Cork Flooring. Manufactured with proprietary Ceramic Shield Technology plus a new 3D wood texture print, these revolutionary new faux wood floors feature all the orthopedic comfort and eco-friendly benefits of cork with the look and feel of reclaimed hardwood. Cork flooring super durable and made from one of the most rapidly-renewable materials on the planet. Additionally, it is more comfortable, easier on the joints, and warmer to the touch than typical hardwoods. 
Inspired Cork flooring planks are extra-wide and six ft. long. The easy-to-install click-lock system makes floating the floor a snap. The flooring is currently available in two colors: Driftwood, a muted brown color similar to reclaimed barn wood, and Silverwood, a gray hue reminiscent of sun bleached oak. Both colors feature a low-sheen matte finish and a never-before-seen 3D wood texture print to provide a natural look and feel. The flooring is topped with Cali Bamboo's Ceramic Shield Technology, which helps to significantly reduce the appearance of scratches, scuff marks and rough spots. Naturally mold and water resistant, Inspired Cork flooring can be used in rooms prone to moisture such as kitchens and bathrooms. Like all Cali Bamboo floors, Inspired Cork flooring is ultra-low VOC with no added urea formaldehyde.
Cork flooring is made from the bark of the cork oak tree, one of nature's most sustainable resources. Made with 42.8 percent pre-consumer recycled content, the soft, spongy inner bark is prized by the wine cork industry, while the perforated leftovers are commonly recycled into flooring or other cork products.