Hastings Tile & Bath Urban Wash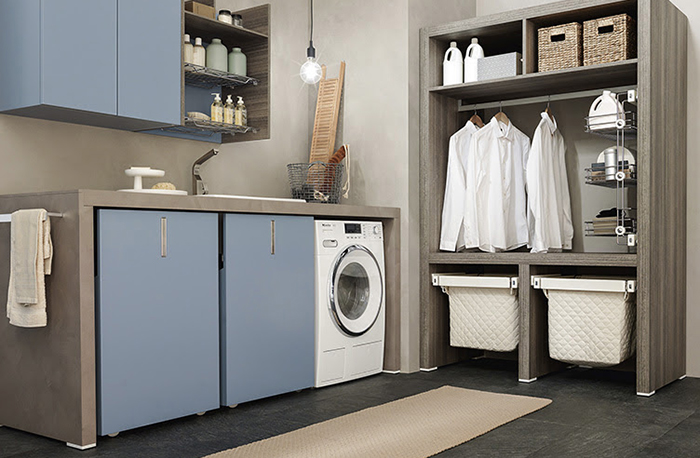 November 3, 2020
Hastings Tile & Bath presents an exciting new collection of laundry/transition room products: Urban Wash by Hastings Tile & Bath. An extension of the popular Urban collection, Urban Wash features cabinets, wardrobes, countertops with sinks, accessories and storage bins in customizable configurations, sizes and finishes, offering everything for the ultimate transition room workstation.
Designed to offer innovative, stylish storage solutions to optimize space and foster ease of movement, Urban Wash can be set up horizontally and vertically with customized solutions ideal for any transition room space. From clean lines for a minimalist look, to warm shades and wood finishes for the contemporary home to vibrant and colorful finish selections, Urban Wash seamlessly integrates into any existing home decor.
Functional elements include removable storage containers and drawers, open or closed storage cabinets with shelves and slide-out racks, hanging racks, pull-out ironing board, metal shoe racks and wheeled containers for optimal storage and accessibility. The choice of floor- or wall-mount cabinets with customized back panel and optional LED-integrated panels are also available. Cabinets and drawers feature choice of elegant and linear pull-out handles with a discreet profile that lie flat when not in use or slim, stationary linear handles. All storage racks are made of durable and stylish chrome-plated metal.
Washers and dryers can fit into the cabinets and either be exposed or behind a cabinet door, with the option to customize the placement of the washer and dryer to elevate their placement for customized ease of use. Cabinets can be fitted with a towel rack. Wardrobe units offer access from both sides for optimal accessibility.
The Urban Wash collection also includes integrated or drop-in style ceramic sinks as well as solid surface sinks drop-in style or integrated with a matching and removable washboard-style laundry board with three functions: regular sink, washbasin or covered for additional counter space. The laundry board can be tilted into the sink to cover the drain hole for soaking. Sinks are available in five integrated options and four drop-in options with varying sizes and styles.
The cabinet legs are designed with protective waterproof feet made of Tecnoril, a mineral-acrylic resin composite material, that preserves the unit in high humidity conditions or in case of accidental water spills. Floor-mount units are crafted with a 1-in. aluminum base or optional wheels.