Miele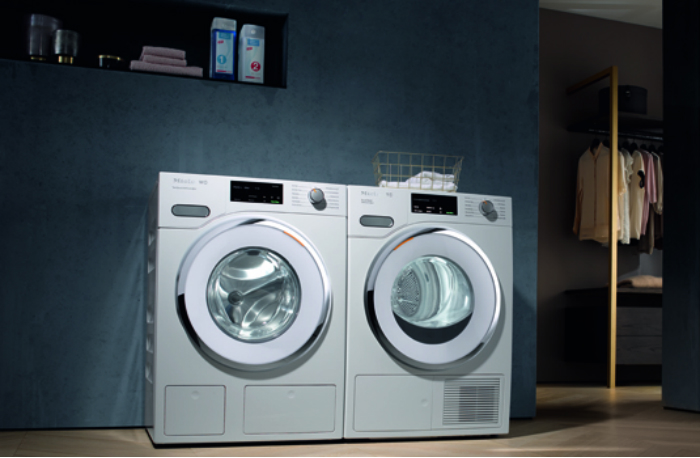 February 1, 2018
At KBIS 2018, Miele introduced the W1 washing machine and T1 dryer. Both model series are due to be launched in April 2018.
The W1 washer features a two-phase automatic detergent dispensing system, called TwinDos, which is used in most wash cycles. This feature operates in two stages with the UltraPhase1 removing soiling while the UltraPhase2 rids fabrics of stains. Each phase dispenses the proper amount of liquid based on load size, type of fabric and programmed level of soiling and staining.  Using the two phases, TwinDos is able to keep colors from fading while keeping white clothes bright and crisp. Miele has also introduced CapDos, a one-time-use capsule that adds special fabric care detergent to certain garments. For garments and fabrics needing special care, Miele has developed five capsules, including sport, outdoor, down, wool and silk. Each specially formulated Cap has a matching wash program, taking all guesswork out of washing even the most delicate items. Additionally, using the Miele developed "spin and spray" technology, the new QuickIntensWash program washes a regular load of laundry in under 60 minutes.
The new Miele T1 dryer is a ventless dryer using innovative and efficient heat-pump technology. T1 dryers boast new features including SteamFinish, a mode that adds steam, which prepares the fabric for ironing, and depending on the type of fabric, may even eliminate the need to iron altogether. The exclusive FrangranceDos feature lends a pleasantly fresh fragrance to laundry (lasting up to four weeks) and is available in Aqua, Cocoon and Nature. The T1 also includes PerfectDry, which detects the amount of moisture in the drum to ensure proper drying.
All detergents will be available through authorized Miele dealers. Additionally, the W1 and T1 are linked to the Miele@mobile app, allowing the user to monitor their laundry system and alerts them when TwinDos cartridges need to be replaced, all through the convenience of a mobile phone.