Samsung Smart Top Load Washer & Dryer with Pet Care Solution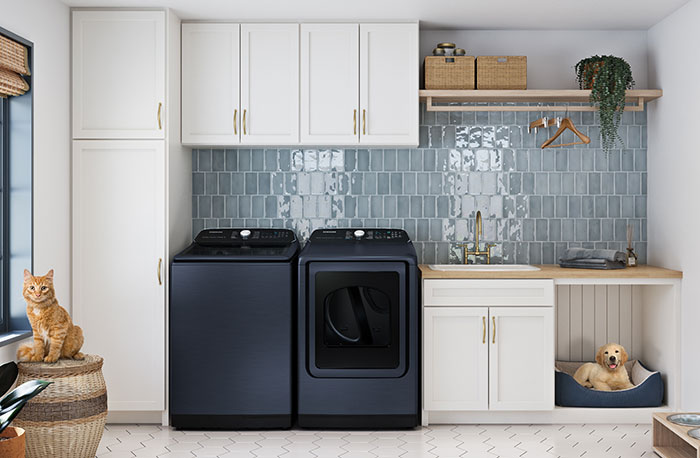 August 23, 2023
Samsung has introduced the Smart Top Load Washer with Pet Care Solution and the Smart Top Load Dryer with Pet Care Dry, its first laundry pair created specifically for pet owners. The launches are the latest expansion of the brand's portfolio of appliances made for modern living with innovative technology, energy saving options, elevated designs and convenient features.  
The new laundry pair is designed for the nearly three-quarters of U.S. households who have at least one pet. It offers innovative and pet-friendly features that simplify laundry tasks, removing 6 times the pet hair and reducing common pet odors so you can breathe easier and keep items feeling fresher longer. 
The Smart Top Load Washer with Pet Care Solution has an innovative wash cycle that creates dynamic water currents to loosen dirt and rinse hair through specially designed dual pet hair filters, trapping hair inside. The filters can easily be removed and cleaned, similar to cleaning laundry lint filters. For heavily soiled items, you can skip the laundry room sink and just scrub and pretreat items with the washer's built-in Active WaterJet faucet. Save yourself time and effort and wash more pet beds and blankets in a single load, thanks to the Extra-Large 5.4 cu. ft. capacity drum.    
Breathe easier and keep your clothing and your pet bedding clean and smelling fresh with Samsung's Dryer with Pet Care. The dryer uses a dynamic tumbling algorithm specifically engineered to help eliminate unpleasant smells, and when your clothing and pet items require a deeper cleaning, just toss you can use the Steam Sanitize+ setting to remove 95% of pollen from fabric, relax light wrinkles and reduce odors.    
The laundry pair is Wi-Fi enabled to simplify the process of doing laundry. Get end-of-cycle alerts and remotely start, stop, schedule or delay cycles using the SmartThings app. For added convenience, SmartThings will use Auto Cycle Link to automatically match the wash and dry cycle for optimal cleaning.
The laundry pair is designed to help you conserve energy at home. The appliances are Energy Star Certified and include advanced energy saving features with SmartThings Energy, which makes it effortless to monitor and manage your compatible Samsung appliances power usage with energy saving tips and alerts to help lower your electric bill all from your phone. SmartThings Energy is available in the SmartThings app.