Speed Queen Washer and Dryer Set with Pet Plus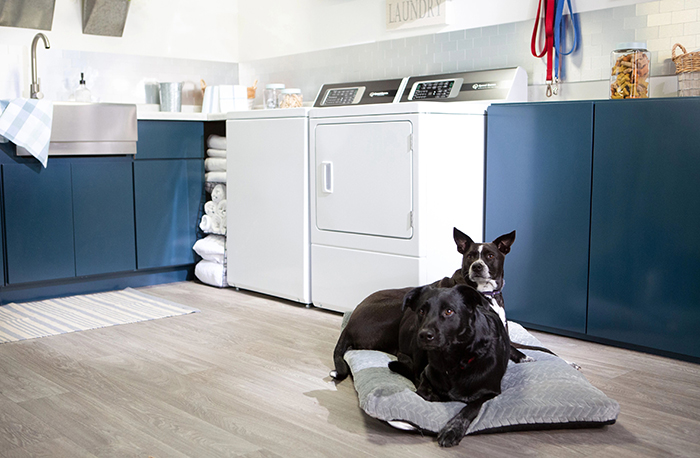 August 27, 2023
This article was originally published on August 27, 2023; it was updated on September 18, 2023.
Speed Queen takes a different approach to innovative fabric care technology with its front-loading commercial-style washer and dryer set, now with Pet Plus. The brand has a strong following and is known for its durability and reliability. Speed Queen tests its commercial quality machines to 10,400 cycles or roughly 25 years of life in an average household. The brand also offers fast cycle times and chip and corrosion-resistant stainless-steel interiors. 
The best part is that the brand recently launched its Pets Plus cycles, so the pet ownership experience just got a little more carefree and hair free. Knowing that 43% of pet owners use pet hair on clothes as a barometer of their cleanliness, Speed Queen's Pet Plus cycles offer consumers a highly effective solution for removing hair and keeping all items looking and smelling great.
Speed Queen's front-load washers are durably constructed using premium materials for long-lasting, reliable commercial-grade performance and superior wash results. This front load washer brings you the perfect washing cycle in each and every load, featuring fast cycle times, pre-wash action, electronic touch-pad and 3.5-cu.-ft. capacity. It features a stainless-steel wash tub that will not corrode, chip, crack or pit in normal use, all while keeping your clothing snag-free. Balancing technology redistributes even the most unbalanced loads for consistent cycle times, minimized vibration and reduced noise. The suspension system dramatically reduces vibration making it a great choice for 2nd-floor installations.
The 7.0-cu.-ft. dryer features 10 preset cycles and four auto dry cycles in addition to the Pet Plus cycle. Other features include Steam Refresh, Steam Boost, Moisture Sensor and EcoDry Option. 
The Commercial Style Washer and Dryer Set is available at AJ Madison.