Native Trails Wins Two 2016 GREEN GOOD Design Awards
---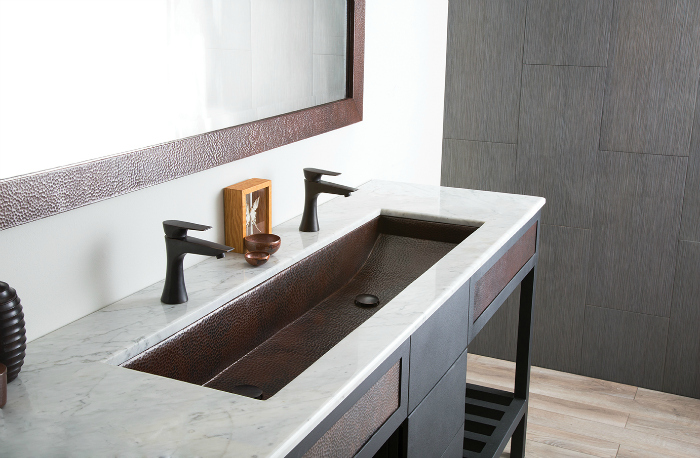 July 28, 2016
Native Trails recently received 2016 GREEN GOOD Design Awards for two of its bathroom sinks, Palomar Vanity Top with Integral Sink and Trough 48. This is the fourth year Native Trails has been selected as a winner in this annual competition.
The Palomar Vanity Top with Integral Sink is handcrafted of NativeStone, the company's blend of cement and natural jute fiber. Trough 48 is a hand-hammered 48-in. copper sink, ideal for larger bathrooms. The sink is artisan crafted and forged of recycled copper, bringing modern functionality to this classic material.
"At Native Trails, we are passionate about merging innovation in design with sustainable materials. We are honored to be as such recognized for Palomar and Trough 48 sinks, through these prestigious awards," said CEO Naomi Neilson Howard. "We strive to practice sustainability in every aspect of our business model, from our working relationships with our artisans to our philosophy of choosing reusable, sustainable materials that will last for generations."
GREEN GOOD Design is sponsored by The European Centre for Architecture Art Design and Urban Studies and The Chicago Athenaeum: Museum of Architecture and Design. It identifies examples of sustainable design from around the world and develops public awareness about which global companies are doing the best job towards ecological and sustainable design. This year, members of The European Centre's International Advisory Committee served as the jury and selected more than 100 products, programs, people, environmental planning and architecture as outstanding examples of Green Design from 22 nations.