Kitchen Design Trends Identified by Fixr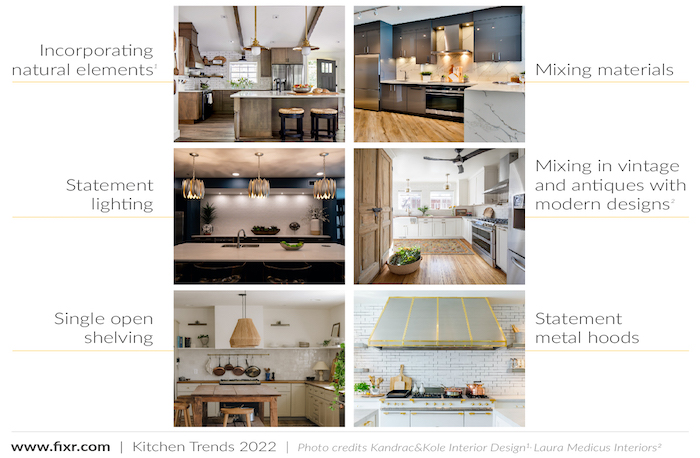 February 21, 2022
Two years ago, few could have imagined the extent of the effects the pandemic would have on the construction industry. All types of projects have been affected by the rising costs, including kitchen and bathroom remodels, two of the most requested projects by homeowners. The increases have put the average cost to remodel a kitchen at the higher end of the average range of $26,000 – $50,000 for a full remodel. Industry insiders expect to see this volatility continuing in 2022, as supply chains still experience backlogs and material prices yet to stabilize.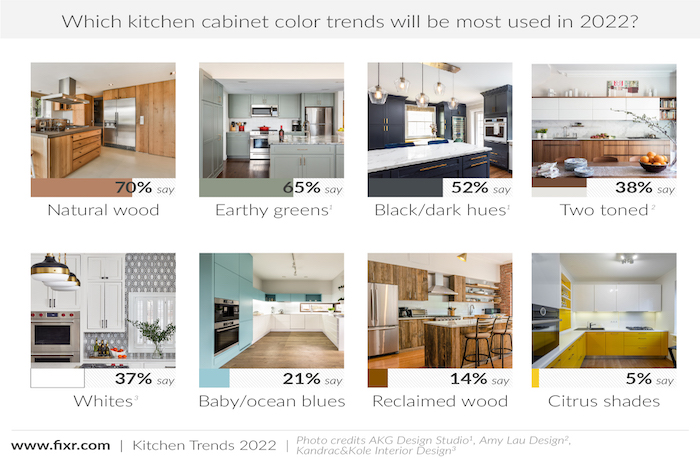 The pandemic has also had an impact on the kitchen design trends we are seeing now. As many people are still spending more time at home, they are reassessing their living spaces. The latest trends are a reflection of homeowners' new needs and wants. Every year, Fixr.com surveys top experts in the home design and remodeling industry to uncover what the popular kitchen design trends will be for the coming year. Here's a summary of some key findings of the latest study.
Natural Elements
Natural materials can call to mind the freedom of the outdoors many people yearned for in 2020 and 2021. So it's no wonder that adding natural elements to the kitchen design is predicted to be the most popular trend for this year. Natural materials can include wood floors and cabinets, stone countertops or stone floors, as well as accents like natural fiber textiles.
Vintage Meets Modern
Incorporating some vintage and antique items and with modern decor – or vice versa – can add interest to a room, as well as enhance function. Examples of this trend include using an antique-style light fixture and matching cabinet pulls with sleek stainless-steel appliances and slab-front cabinet doors or using natural materials like butcher-block countertops and wood floors with laminate or metal cabinets. The idea is to add interest without overwhelming the space, so be sure to equally balance the different elements in the design.
Showstopping Light Fixtures
Statement lights are also poised to be popular in 2022. They not only provide the crucial light needed for the kitchen to function, they also add a focal point to the room. High-design fixtures can be worked into updates of existing spaces, as well. Consider including an organic-form glass shade or a vintage metal lantern into a natural material or mixed-material kitchen design. Hang the statement light above a table, peninsula or island so that it can really catch the eye and focus the design. To make it really stand out, consider making the light a little bigger or brighter than normal.
—By Cristina Miguelez, Fixr.com