BlueStar Launches New "Build Your Own BlueStar" Online Tool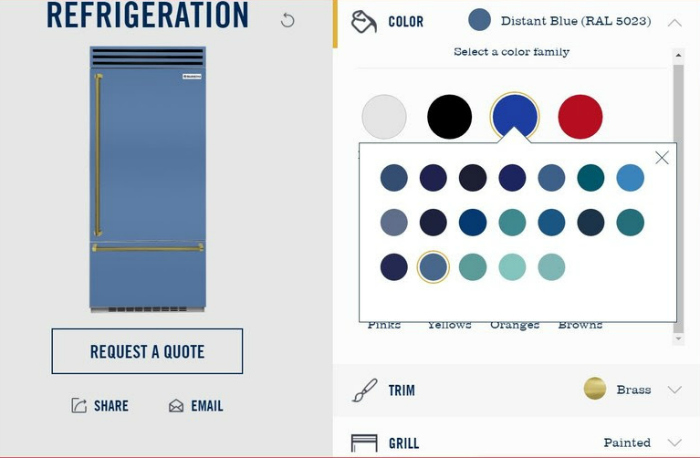 May 10, 2017
Designers and clients can have fun together customizing appliances with BlueStar's new online tool, Build Your Own BlueStar. This program allows users to design one-of-a-kind ranges and refrigerators from the comfort of their homes or mobile devices.  Designers and consumers can explore product lines, cooktop configurations, door swing options and color preferences including more than 750 colors options plus 10 metal trims. 
"BlueStar has built a strong reputation for commercial-style home appliances that allow for the ultimate in customization," said Eliza Sheffield, president, BlueStar. "We offer an almost endless number of options in both cooking equipment and refrigeration. Whether it's a 36-inch Ruby Red range with an 8-inch backguard, a 12-inch griddle and four burners, or a Cobalt Blue, 36-inch built-in refrigerator with brass trim, we build to the customer's personal specifications." 
This new Build Your Own tool reflects how people use the web for product information and ideas.
"The Internet is the first place consumers research products before they purchase," said Sheffield. "Build Your Own BlueStar allows consumers to confidently narrow their selection and create an appliance that fits their specific cooking or entertaining needs, tastes and kitchen décor. With just a few simple clicks, it's easy to change the appliance's specifications to reflect personal styles and preferences."  
After building a BlueStar range or refrigerator online, consumers can email or share their custom design via social media or request a price quote. In addition to the Build Your Own BlueStar feature, BlueStar's website also provides detailed product information, installation guides, an image gallery, recipes and cooking demonstration videos from top chefs, such as Michael Symon.