Canova & Nero Cucine Open NYC Showroom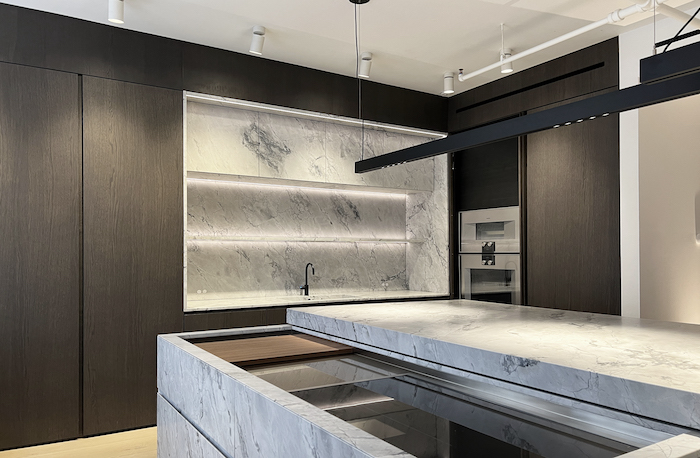 May 25, 2023
Italian kitchen brands Canova and Nero Cucine have opened a new flagship showroom in the Little Singer Building located in the heart of Soho. The opening, which took place during the NYCxDesign Festival, was a collaborative effort with Pianca & Partners, a leading Italian contract hub specializing in custom hospitality and commercial interiors.
Bartolomeo Bellati, CEO of both Canova and Nero Cucine, expressed his excitement about the new showroom opening. "We are delighted to unveil this remarkable collaboration between Canova, Nero Cucine and Pianca & Partners. Our combined expertise, passion for design and commitment to delivering exceptional solutions have resulted in a showroom that truly reflects our dedication to innovation and timeless elegance. We invite clients, designers and design enthusiasts to visit our showroom and experience the artistry of Italian craftsmanship firsthand."
The new showroom at 88 Prince Street, in the vibrant of Soho neighborhood, serves as a testament to the relentless pursuit of excellence and the harmonious fusion of design and functionality. With its contemporary and inviting atmosphere, the showroom provides a space for clients and design professionals to explore the latest offerings from Canova, Nero Cucine and Pianca & Partners.
The 3,000-square-foot showroom offers a comprehensive display of the brands' latest collections. Visitors will have the opportunity to see Nero Cucine's NP4, the largest marble sliding top kitchen island, showcasing the brand's commitment to integrating cutting-edge design, technology and meticulous craftsmanship. Canova's custom woodwork for kitchens, bathrooms, living spaces and closets will also be on display, exemplifying their dedication to creating bespoke solutions that seamlessly integrate beauty and functionality. Additionally, Pianca's upholstered furniture will captivate visitors with its timeless elegance and unmatched comfort. Moreover, the showroom provides a materials library, where visitors can explore an extensive range of options for customization, ensuring that every design vision can be brought to life with precision and attention to detail.
Canova, Nero Cucine and Pianca & Partners are excited to welcome clients, designers, and design enthusiasts to the new showroom, where they can examine the extraordinary craftsmanship and innovation that define these iconic Italian brands. This collaboration promises to inspire and elevate the design landscape in Soho and beyond.