Houzz Pro Now Offers Payments on the Go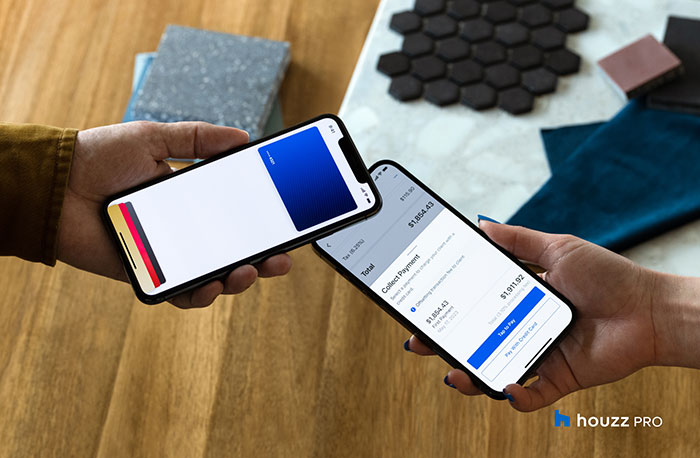 April 26, 2023
For payments on the go, Houzz Inc has introduced Tap to Pay within Houzz Pro, the all-in-one business management and marketing software for residential contractors and design professionals. With Tap to Pay, industry professionals can turn their iPhone into point-of-sale devices to quickly collect electronic payments in person. Pros simply open any invoice in Houzz Pro, choose a scheduled payment and select "Collect Payment," then they tap their iPhone to their client's contactless credit card, debit card or smartphone to accept the charge from a digital wallet.  
"Builders, remodelers and designers have told us that they need to process everything from retainers and deposits to change orders more quickly to keep projects running smoothly," said Alon Cohen, Houzz co-founder and president. "Houzz Pro Tap to Pay enables pros to conveniently accept payment in-person. Since the tool is integrated directly into Houzz Pro, it also contributes to greater visibility into their overall cash flow as pros schedule, collect and track payments across all projects in one place."
Tap to Pay is the latest tool in Houzz Pro's suite of online payment options to help pros get paid faster than offline payment methods to keep projects running on schedule. Pros can accept payment in the field or at their desk by connecting their bank account to get paid via credit card, debit card or ACH transfers. They can also log all checks, Zelle and Paypal transactions on Houzz Pro for a centralized view of their cash flow across projects. 
Tap to Pay is available to all industry professionals who subscribe to Houzz Pro in the U.S. and have an iPhone XS or later, running iOS 16.