WarmlyYours Report Projects Floor Heating Growth in Major Metro Markets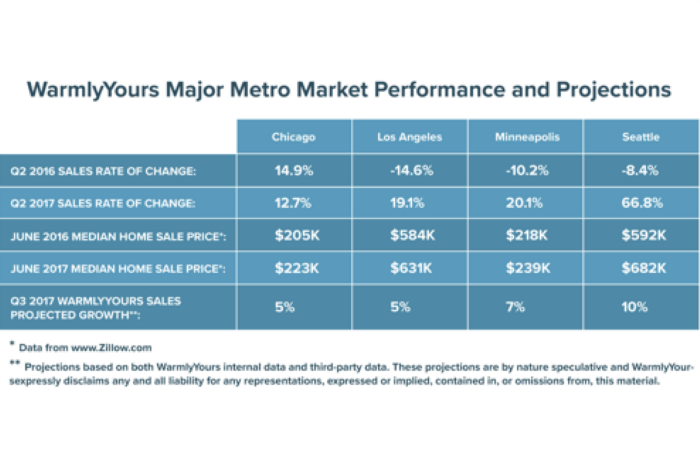 August 30, 2017
According to a recent industry report, sales of electric radiant heating products are expected to grow in several major metropolitan markets across the country in Q3 2017.
WarmlyYours Radiant Heating has released its "2017 Second Quarter Industry Report," and one of the most significant findings in the report was the substantial sales growth in several major metro markets, including Chicago (12.7 percent), Los Angeles (19.1 percent), Seattle (66.8 percent) and Minneapolis (20.1 percent) in Q2 2017. The growth in these markets was largely fueled by sales of electric floor heating systems.
According to the report, "[WarmlyYours was] able to identify that all of these markets showed median home value increase of nearly 10 percent between June 2016 and June 2017, with each projecting varying degrees of growth in Q3 of this year. This tells us that these markets have not yet reached a point of price saturation (which could stall sales of existing homes). Because of this, we expect to see these markets continue to provide growth, particularly in floor heating sales."
The projections in the report estimate continued growth in these metro markets. WarmlyYours expects to see Q3 in radiant heating sales of 10 percent in Seattle, 7 percent in Minneapolis, and 5 percent in both Chicago and Los Angeles.
In addition to these projections, the report also analyzed the performance of the remodeling, construction and housing industries. With housing prices continuing a steak month-over-month increase, the sales of existing homes continue to wither. However, there is light at the end of the tunnel due to an increase in pending home sales, as identified by the National Association of Realtors. This, coupled with a June 2017 increase in new construction starts (2.1 percent from prior year period, according to a joint press release issued by the U.S. Census Bureau and the U.S. Dept. of Housing and Urban Development) could mean that the supply shortage in available housing could see some alleviation.
According to the WarmlyYours report, "With high national home prices showing no signs of lowering, it is safe to assume that a strong incentive will remain for homebuilders across the country. As long as these high prices remain a detriment for investors, we can expect to see a relative plateau in pricing. However, it should be noted that this applies to national prices as an average; some individual markets will see steep increases due to extenuating factors like regional economic development and infrastructure limitations."